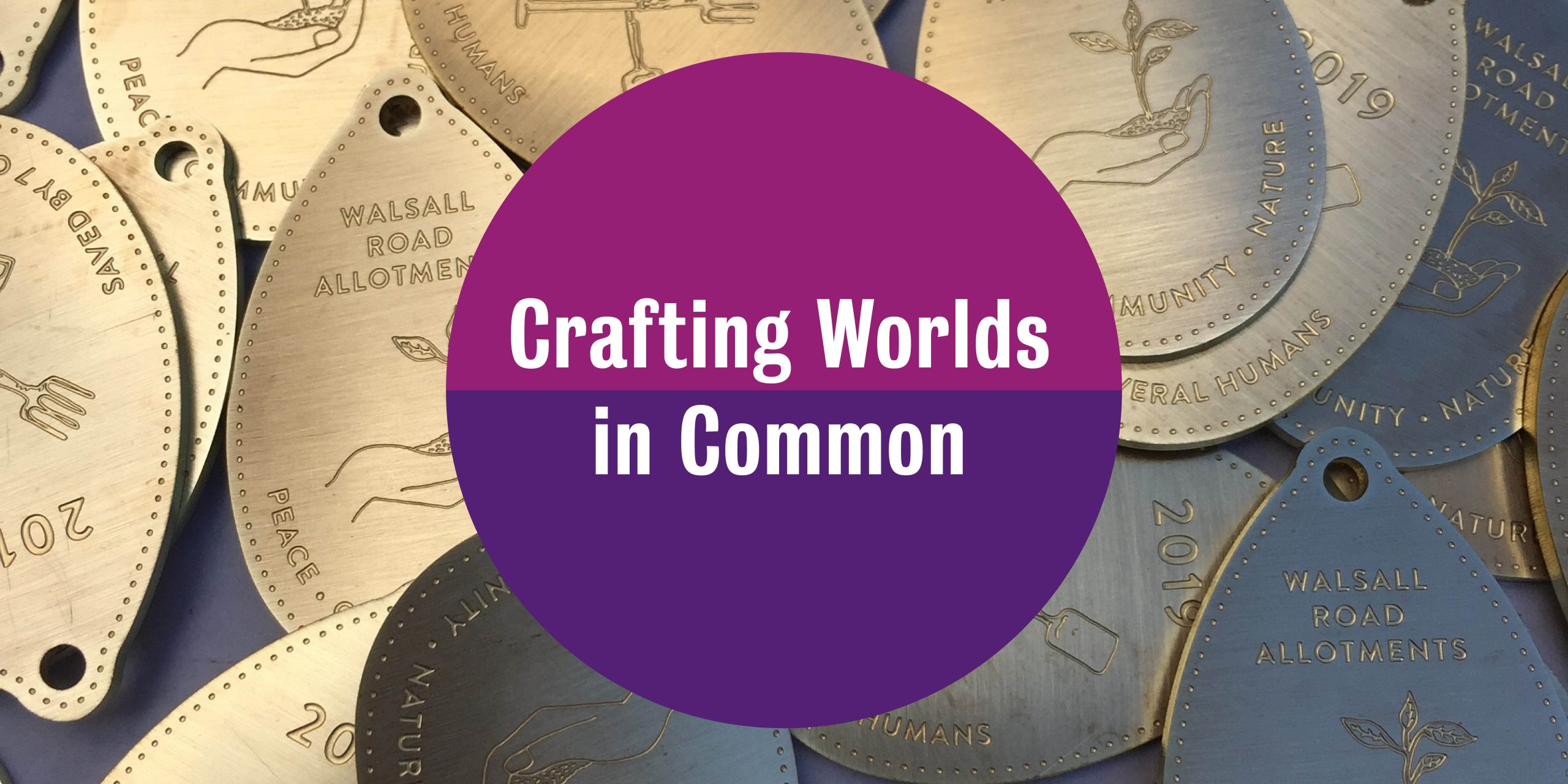 21 Jun

Crafting Worlds in Common symposium
A symposium by
Crafting the Commons Research Network
exploring intersections between craft practices and ideas of the commons and commoning, followed by a guided virtual tour of
We are Commoners
exhibition.
Thursday 24 June 2021: symposium 1.30-5.30pm BST and exhibition tour 7-8pm BST
Free; book via Eventbrite
The symposium marks the outcome of a two-year collaboration between academics, curators, artists and makers exploring intersections between craft practices and ideas of the commons.
How might we create worlds in common?
How can we share resources, ideas and knowledge?
How we might foster a more collective relationship with the places where we live?
The keynote by Professor Peter Linebaugh will be followed by four panel discussions on the themes of Searching for the commons, Commoning in an individualised world, Creating commons and Common futures, plus an invited presentation by Torange Khonsari. Short films drawn from the We Are Commoners exhibition will be screened during and between panels.
Contributors from the UK, Michigan, Norway and Puerto Rico.
---
Information for attendees
Live closed captioning is provided and a transcript will be available afterwards. If we can assist with access requirements, please email [email protected].
The event is in Zoom webinar format, meaning that attendees do not have to be present throughout. Of course, we hope that you can attend the whole event but if you need to arrive late, or come and go during the day, it will not cause any disruption.
The same Zoom link will be used for the evening virtual guided tour as for the afternoon symposium.
If posting on social media, please use the hashtag #WeAreCommoners
During the symposium you are invited to share comments, ideas and resources on the symposium padlet
---
Schedule
1.30-1.50 Welcome: Amy Twigger Holroyd & Leila Dawney
1.50-2.50 Craft and Commoning the Earth Again: A Keynote Professor Peter Linebaugh, followed by Q&A
2.50-3.20 Searching for the commons: Justine Boussard, Patrick Bresnihan, Leila Dawney and Deirdre Nelson, chaired by Amy Twigger Holroyd
3.20-3.50 Commoning in an individualised world: Ben Coode-Adams, Justin Marshall, Dimitris Papadopoulos and Giuseppe Salvia, chaired by Patrick Bresnihan
3.50-4.20 Creating commons: Lise Bjørne Linnert, Jeremy Kidwell, Rosina Santana Castellón and Amy Twigger Holroyd, chaired by Naomi Millner
4.20-4.45 Invited presentation: Torange Khonsari, followed by Q&A
4.45-5.15 Common futures: Alinah Azadeh, Deirdre Figueiredo, Torange Khonsari and Naomi Millner, chaired by Leila Dawney
5.15-5.30 Closing remarks: Amy Twigger Holroyd, Leila Dawney and Deirdre Figueiredo
5.30-7.00 Break
7.00-8.00 Guided virtual tour of We Are Commoners exhibition
---
Contributors
Keynote
Professor Peter Linebaugh is an acclaimed historian and the author of books including The Magna Carta Manifesto: Liberties and Commons for All (University of California Press, 2008), Stop, Thief! The Commons, Enclosures, and Resistance (PM Press, 2014) and Red Round Globe Hot Burning: A Tale at the Crossroads of Commons and Closure, Race and Class, Love and Terror, and Kate and Ned Despard (University of California Press, 2019).
Peter's keynote is titled Craft and Commoning the Earth Again.
Invited presentation
Torange Khonsari is Co-Founder and Director of the urbanism, public art and architecture practice Public Works since 2004, an interdisciplinary practice working on co-production methods in performative art, architecture, urbanism and props for events. Her strategic design practice focuses on transformational design, design as form of inquiry and design intervention as forms of new imaginary. Her projects directly impact public space, working with local organisations, communities, government bodies and stakeholders. Torange is course leader for the MA in Design for Cultural Commons at London Metropolitan University.
Torange will be posing a point of discussion about a new materiality of the commons and questioning if we require a new system of objects outside those based on commodification and consumption. How the process of conception, production and exchange of objects can offer agency, whether through direct action and disobedience or building social and political communities. 
Panellists (Crafting the Commons network members)
Alinah Azadeh is an artist, performer, writer and social activist. She has been making work for and with museums, galleries and across diverse communities for over twenty years, including the National Portrait Gallery, South Bank Centre, Fabrica Gallery and Freud Museum as well as internationally.
Lise Bjørne Linnert lives and works in Oslo. Linnert works interdisciplinarily. Social, political, feminist and human rights issues are fundamental to her activist practice. Collaboration and audience participation, long term commitment are key elements.
Justine Boussard is an independent curator and creative producer working to address key contemporary issues through public design interventions and community engagement. Justine collaborates with jeweller Alice McLean to celebrate community assets and local, collective campaigning undertaken to protect them. Their project 'Common Ground' examines how making can open the process of recording and sharing local commoning history.
Patrick Bresnihan is a Lecturer in the Department of Geography at Maynooth University. He works across the interdisciplinary fields of political ecology, science and technology studies, and environmental humanities. He has published extensively, including articles on water infrastructure, urban commons in post-crash Dublin, and the poetics of John Clare. His book, Transforming the Fisheries: Neoliberalism, Nature and the Commons (University of Nebraska Press, 2016) won the Geography Society of Ireland Book of the Year in 2018.
Ben Coode-Adams organises an exhibiting commons called the Blackwater Polytechnic in rural North Essex. Regular members Simon Emery, Sara Impey, Justin Knopp, and Freddie Robins are joined by extraordinary members including but not limited to Celia Pym, EMC Collard, and Julie Arkell. Ben's personal practice is based around farming, curating, public realm sculpture using blacksmithing and steel fabrication, and gallery based watercolours.
Leila Dawney is a Senior Lecturer in the Department of Geography at the University of Exeter. A cultural geographer and theorist of authority, affect and embodiment, her research addresses forms of experience and subjectivity produced in and through spaces of late capitalism. Leila is co-editor of Space, Power and the Commons: The Struggle for Alternative Futures (Routledge, 2016) and co-investigator of the Crafting the Commons research network.
Deirdre Figueiredo, MBE, Director of Craftspace. Craftspace is the main non-academic partner for the research network, and curated the associated We Are Commoners touring exhibition. 
Craftspace is a charity creating opportunities to see, make and be curious about exceptional contemporary craft. We champion the power of craft to change lives and communities. Our work builds relationships between artists, people and organisations and encourages the sharing of ideas, skills and knowledge. Craftspace initiates artistic programmes which stimulate creative excellence, critical thinking and understanding of contemporary crafts in the widest social and cultural contexts. With over 30 years' experience, we continue to learn, push boundaries and challenge ideas. Based in Birmingham, we work collaboratively regionally, nationally and internationally. 
Jeremy Kidwell is an interdisciplinary scholar, trained in ethics and constructive theology based in the School of Philosophy, Theology and Religion at the University of Birmingham. In his research, he confronts the ecological crisis by interrogating the ethical issues that lie at the intersection of "nature" and "culture" ranging from ecological ethics, activist studies, religious conceptions of labour and the philosophy of technology.
Justin Marshall is an Associate Professor of Design at Northumbria University. An aspect of his work is concerned with the role and significance of digital tools within craft practice, both in terms of new aesthetic opportunities, and how the creative use of this toolset challenges the concept of the 'handmade'. More broadly, he is interested in how craft, as a materially sensitive and human centred practice, can have value in multidisciplinary research projects that investigate areas beyond the normal scope of craft practitioners.
Naomi Millner is a political geographer based at the University of Bristol. Naomi's work explores the knowledge politics surrounding the making and management of global 'environments' in the context of changing global agendas for sustainability and changing terrains of conflict. Major themes in her work include citizenship rights, legal aspects of tenure and displacement, environmental expertise, and the construction of sustainable futures – especially in relation to the movement of new paradigms for biodiversity conservation around the world.
Deirdre Nelson is a maker creating textiles which explore humour, place and social history. She partners traditional techniques with contemporary processes such as digital print in creating work not only to be exhibited but on artist residencies, within education and community projects. Resulting works cross over art, design and craft. She enables the communities she works with to explore social and environmental issues through making. She also works to commission for arts and healthcare organisations. Collaborating with creatives such as architects, musicians and writers allows her to create and produce diverse projects.
Dimitris Papadopoulos is Professor of Science, Technology and Society and Director of the Institute for Science and Society at the University of Nottingham. He is also a Leverhulme Fellow and the founding director of EcoSocieties, one of the University of Nottingham's Interdisciplinary Research Clusters. His recent book, Experimental Practice. Technoscience, Alterontologies and More-Than-Social Movements (Duke University Press 2018), investigates how community technoscience, social innovation projects and the distributed invention power of social movements change the meaning of politics and justice today.
Giuseppe Salvia is Research Fellow with a PhD in Design engaged in international research projects addressing socio-technical innovation and sustainable patterns of production and consumption. He has been investigating diverse trends and phenomena with a key interest in skills, including making and grassroots innovation; repairing and product lifetime; sharing economy and urban transformation.
Rosina Santana Castellón is a Cuban American artist who dialogues with communities suffering trauma. With Masters in Fine Arts and Social Work from Carnegie Mellon and University of Illinois respectively, Santana has worked internationally with communities in-flux in Argentina, Mexico, Puerto Rico, Spain, Germany, the United States, and her native Cuba. The recent project "Redes" (Nets) in collaboration with Mexican artista Claudia Rodríguez and social psychologist Ana J. Ramirez worked with the local ONG 'Un Salto A la Vida' to create a monumental weave woven by villagers along the polluted Rio Santiago and urban dwellers in Guadalajara, Mexico. The weave honors the death of a child poisoned by the polluted river waters. A participant in a past International Sculpture Panels (2008,2014,2016), Ms. Santana has presented her work at numerous international venues including Public Art Observatory, Barcelona, Spain; keynote speaker for the Society for Caribbean Studies, England; Transart Institute in Linz, Austria; Oral History Conferences in Scotland, and Mexico; and at InterArts Collision Conference, Canada. Santana currently teaches at the University of Puerto Rico in Bayamon, Puerto Rico and is a consultant with the Oncological Center of Integral Therapy of Puerto Rico working with cancer patients.
Amy Twigger Holroyd is a designer, maker and researcher, and Associate Professor of Fashion and Sustainability in the School of Art & Design at Nottingham Trent University. Amy developed a concept of fashion as a commons over a decade ago; this idea drove her PhD research and subsequent book, Folk Fashion: Understanding Homemade Clothes (I.B.Tauris, 2017). In her academic role she is the Principal Investigator of the Crafting the Commons research network; she has also created an installation for the We Are Commoners exhibition.
Films
For the exhibition Deirdre Nelson has created a 'Guild of Commoning' to celebrate the acts of commoning within 2km of her flat in Glasgow. The map identifies community led organisations that run on the exchange of skills or resources. The mapping starts with Deirdre's own tenement flats. During the first lockdown she was reminded how shared hallways, gardens and responsibilities resulted in regular acts of commoning. This included food and book sharing. 
At the heart of this invented guild is the belief that commoning is social. A thriving community relies on a shared understanding that we take care of each other. The pieces are embroidered using eco cotton dyed with plants foraged from Deirdre's local park using a couching technique found in gold work.
This video blog shows Deirdre making her work and talking about the ideas behind it.
Since March 2020 groups of undocumented migrants have met around "drawing tables" in workshops arranged by Gelawesh Waledkhani and Lise Bjørne Linnert. Tables with digital screens were set up simultaneously in Oslo, Trondheim and Bergen.
Participants connected to share memories and stories. They drew memories of a room, exploring and expressing emotions through lines, self-portraits, embroidered words and symbols, with both personal and universal meaning. Simon Stranger, a well-known Norwegian author led workshops, sharing how to use words poetically to tell their stories.
They worked outside using natural materials each season had to offer. In spring brushes were made from twigs and leaves. In autumn they stitched on fallen leaves, mending them as an act of care and protest. Their treatment of leaves symbolised how they wished for undocumented migrants living in limbo to be seen and treated.
Common Agency Projects, Commoning Action #14
During COVID-19 restrictions, visual artist Shane Waltener and dance artist Laura met weekly in parks and commons. Public spaces developed a new function, more than safe spaces to socialise in, they became cultural centres where people went to be entertained, share ideas and experiences. 
Witnessing this, the artists chose to work in green urban spaces and with nature: the weather, seasons, the site and all that grows in it. Through observation and play, they developed and rehearsed making and performance scores, exploring the idea of nature as a commons. They created work through movement improvisation, recording and discussing it with each other and interested park goers.
This video, created by filmmaker Felicity Crawshaw, contains instructions to be reenacted by visitors. Each time the works are remade, new knowledge is created amongst a growing community of performers. We ask ourselves how does this material feel? How does it behave? How do I connect with it and others? What can I do with it? How can it support me? How can I nurture it?
Linda Brothwell considers 'Acts of Care' as the anchor of her creative practice; "bringing me home, using my hands, to the very centre of myself." Since 2009 this ongoing project has had international editions, each created for a new place, using varied skills and techniques. All placed the intention of 'care' of public spaces at the core.  Through making the work and the tools required, she can spend months or years immersed in the techniques, materials and stories of a place.
The first 'Bench Repair Project' edition was in Lisbon. Linda replaced broken wooden bench slats with new ones city-wide, inlaid with traditional Portuguese designs. She carefully carefully created each tool to play a specific part in the act of care, to fit her hands and be portable for working on street benches.
For We are Commoners, Linda revisited the project at a park in Bristol. Each new panel has been inlayed by hand using handmade tools. Imagery of patches and stitches are used to decorate, highlighting the potential for beauty in everyday care and repair.
Digital artist Finbar Marcel created a film in response to the themes of this work, inviting us into a new world of tools and action in public spaces.
The work made during this project demonstrates the power of community action to seek ethical care of a natural resource that belongs to all. Artists Claudia Rodríguez, Ana Joaquina Ramírez and Rosina Santana Castellón worked with over 400 people in several communities along the polluted Santiago river in Guadalajara, Mexico, to make a 150-metre long weave. 
Through teaching people to finger crochet, they created a social network; linking city residents with people from rural areas. This formed a protest to government agencies to clean up the river. The project was inspired by a child's death caused by arsenic poisoning after playing by the water. The monumental weave was carried in a traditional procession, common in Mexican culture, to a specific river site and installed as a temporary sculpture. Public discussion and poetry performances followed.