02 Nov

Commons communicator: sharing through craft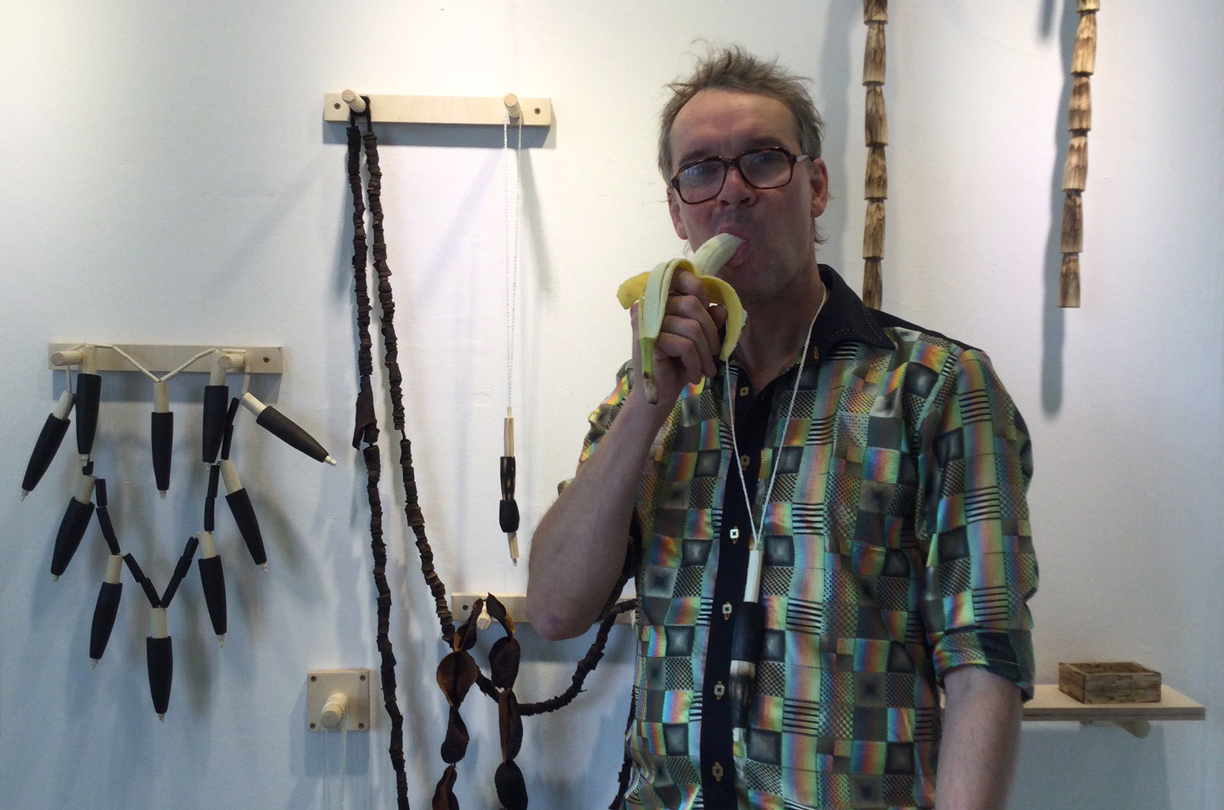 Rachael Colley is an award-winning interdisciplinary artist and senior lecturer in Jewellery and Metalwork at Sheffield Hallam University. Her current research brings together jewellery, created predominantly using food waste, and ambiguous artefacts for eating. She invites diners to wear these visceral jewellery pieces whilst consuming food with alternative dining tools.
---
Participants at the Crafting the Commons network event in Leicester on 13 July 2021 indicated a drive to continue communicating about the commons and craft, encouraging us to seek out further opportunities to engage with the public and share our ideas beyond Craftspace's We Are Commoners national touring exhibition. I applied to take part in Great Northern Contemporary Craft Fair's 'Discuss Showcase', an event taking place at Victoria Baths in Manchester from 8-10 October 2021 that would provide me with the opportunity to present and discuss ideas exploring the future of jewellery with fellow makers and a new public audience.
The body of commissioned work I created for We Are Commoners was produced during the Covid-19 lockdowns of 2020-21. Limited access to materials and tools presented a creative challenge and I aimed to work within the parameters set out by the situation, gathering discarded organic materials (wood, twigs, nettles) and food waste (avocado, banana and carrot peel) to transform into biodegradable jewellery. I accessed free learning resources on YouTube to learn new skills relating to woodworking and tested freely available bioplastic recipes created by Materiom. I cut up avocado peel halves with scissors (or just dried the peel half and threaded it onto organic yarn) and formed it into shapes, leaving these small-scale sculptures to dry on the kitchen side and then linking them together to form a chain, which turned into a neckpiece. The material becomes leather-like, but brittle when dry. When links break, they can be replaced by eating another avocado, washing, cutting and intertwining another skin, leaving it to dry in position.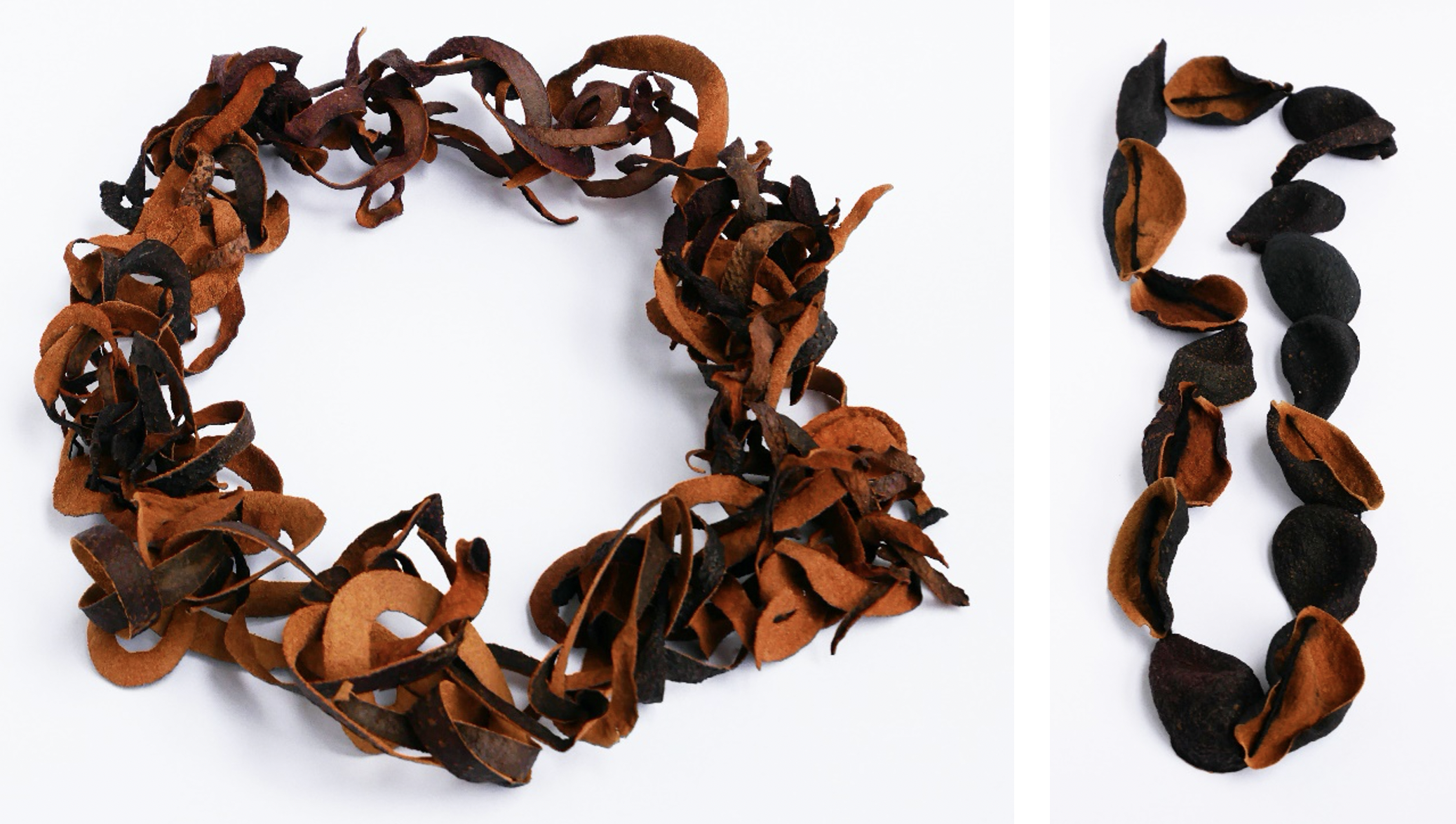 My aim is to open up discussions around jewellery and craft, encouraging participation in making rather than purchasing, posing a challenge to the usual monetary craft fair transactions. At my demonstration table visitors were invited to eat a fruity snack and then use simple making methods to create their own food waste works. They were encouraged to have a go at home with their kids, rediscovering the simple joys of daisy-chain making and pasta necklaces! I invited visitors to take away exhibition guides, which included the We Are Commoners 'instructables'. The instructables were created as invitations by exhibitors, including myself, to engage the public in their projects and share their ideas. My piece proposes a new form of biodegradable costume jewellery, created using organic waste and yarn. The jewellery can be easily repaired, its components can be reconfigured to form part of a new design and it can be composted or left in a natural environment to decompose when it reaches the end of its life.
Many visitors appeared keen to get creative and said they would try to make their own food waste jewellery at home. My hope is to gauge the impact of having shared my making methods via visitors' social media engagement after the event, as I invited those interested to tag me in posts featuring their jewellery creations. Visitors also made enquiries about prices, as GNCCF is predominantly a selling show; however, the pieces were not for sale. They were offered freely to those who made a donation to relevant charities, i.e. Feedback Global if the piece was created from food waste or, for the wooden wearables, tree planting schemes such as those run by the Woodland Trust. This aspect of the project was less successful, which may be due to inviting the viewer to place a value on the works, thus defining their own charity donation and the worth of the work. Fellow Discuss Showcase exhibitor and Crafting the Commons network member Justin Marshall suggested that donations could be indicated for each piece based on, for example, the number of trees that would be planted, rather than specifying a figure in monetary terms.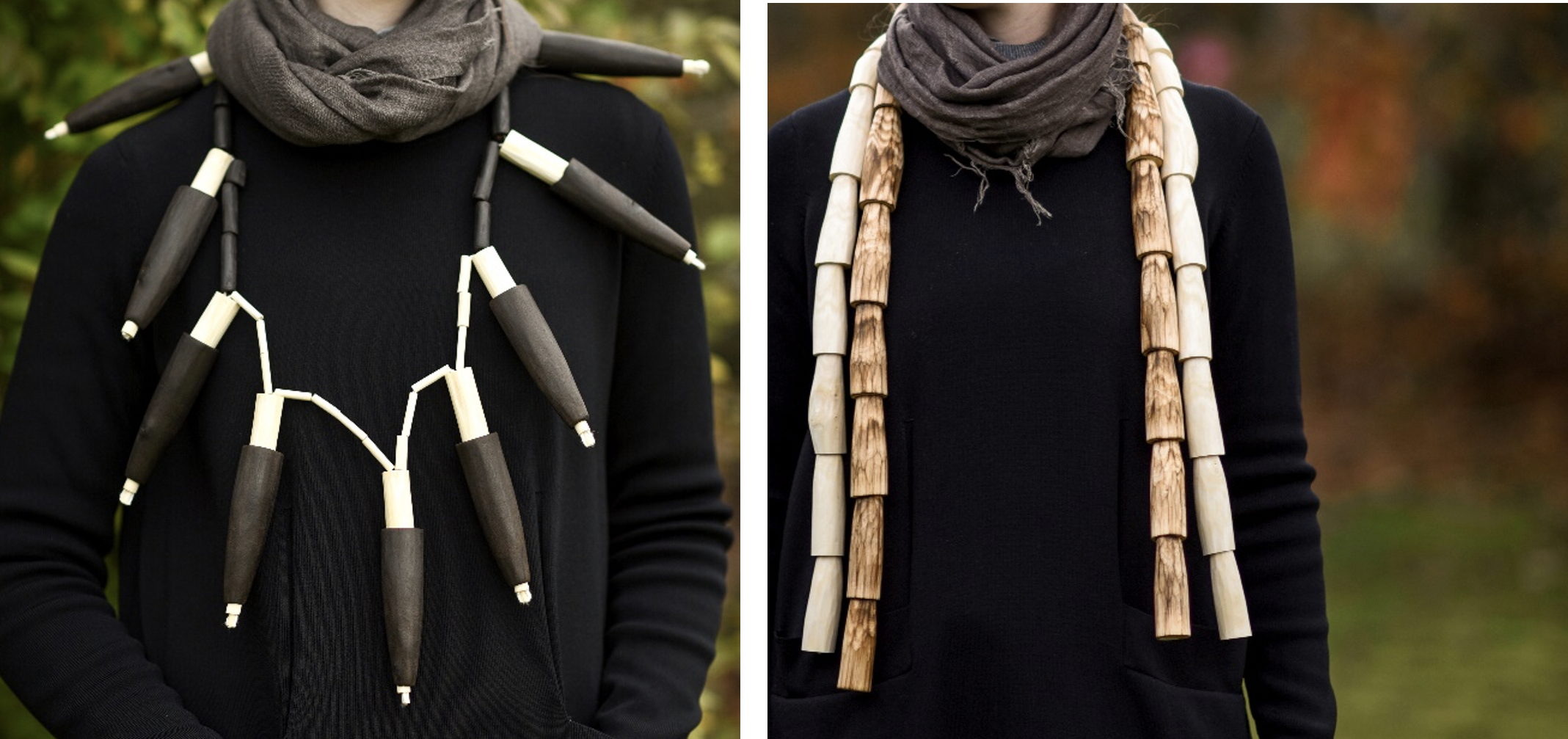 During the event visitors were invited to touch, smell and wear the jewellery. The articulating and interlocking wooden pieces (seen on the right) were popular, as the components are tactile, encouraging movement and interaction in the wearer. They are somewhat reminiscent of wooden snake toys and, again, connect back to early memories of play and jewellery, as with the references to daisy chains and pasta jewellery. The wood I used to create these works was gathered from a hedgerow that had been flail-cut by a farmer at the start of the first lockdown. I felt sorry for this hedge and its brutal treatment, so resolved to collect some of the discarded wood each day on my daily walk and take care to make something beautiful with it. I used the internet to identify the majority of the wood as elder, then watched YouTube videos to learn basic green (newly cut) woodworking techniques. The elder was quite easy to work with as a starting point to practise my skills, particularly as elder has a soft foamy pithy core that's easy to drill out. As the government removes its support for the arts from schools, I wonder whether working with green woods, and a wood such as elder, could be a good starting point for younger people interested in exploring traditional woodworking.
All of the pieces I created were made from organic materials, making the collection's colour palette quite limited to shades of beige, brown and black. Colour was added through natural dyeing processes and charring with a blow torch, providing visual contrast and in some cases, with the partial charring, highlighting details in the carving and wood grain. Forms were derived primarily from the natural materials themselves and from the limitations of the tools and equipment I was using to create them. I received some comments that the aesthetic of the works reminded visitors of African art and jewellery, although when I asked a visitor who moved to the UK from Sao Tome and Principe she said she didn't necessarily see the connection. The main similarities seem to be the large scale of the adornments and the creative use of natural materials, which are aspects not so commonly seen in UK jewellery design.
I'm very keen to maintain connections with my fellow makers and the members of the public that I met during the event. I hope to see their own biodegradable jewellery creations popping up in my social media feeds in the not too distant future!