15 Feb

Commons in Practice – finding the gentle commons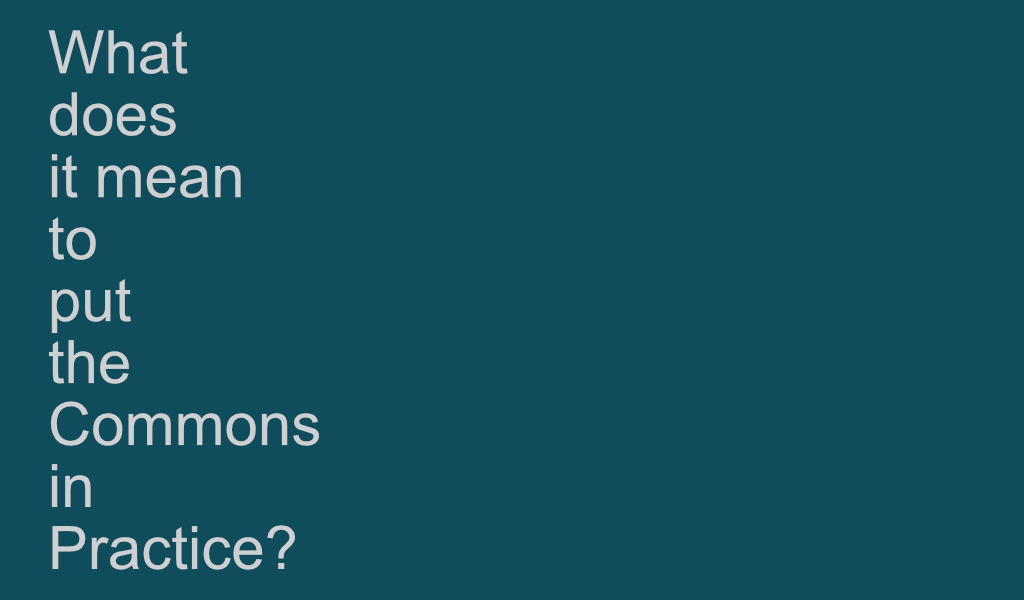 This post is by network member Justine Boussard, an independent curator and creative producer working to address key contemporary issues through public design interventions and community engagement.
---
I love a good crit. Loved and loathed by design students across the world, the formulaic crit is a tried and tested format through which one gets to share their work in progress and get feedback from others. I vividly remember that one crit during my Design History MA where I had worked so hard and so late on my idea that when my peers applauded (which they did for everyone) I got so emotional I had to exit the room to compose myself before taking questions. 
Keen to revisit the emotional and intellectual thrill of those student days, I suggested together with my collaborator Alice McLean that we could run a couple of 'crits' to prod and support each other throughout the development of our respective exhibition commissions. To my delight a good number of We Are Commoners network members responded to the invitation, which allowed us to get to know each other a little better.
When the opportunity came up in July 2021 to suggest activities for the last months of the funded period, I naturally proposed to host a series of 'peer learning crits' called Commons in Practice. The idea was to support each other as we endeavoured to continue to implement Commons thinking into our respective practices. The plan was for 2 or 3 of us to present a project, idea, or challenge, for all to respond to over an hour on zoom. In reality, the sessions turned out to be much more free flowing, with one practitioner offering an initial thought, question or activity, from which ensued rich conversations. Whether this was due to the timings of the events which were mostly outside of work hours, or because most of us were pretty exhausted, this platform turned out to be an altogether gentler kind of place than I had envisaged. I've summarised our wide ranging discussions below, including our final musings on what kind of relationship can a group of disparate, geographically-distributed, exhausted-but-committed, craft practitioners entertain with the Commons.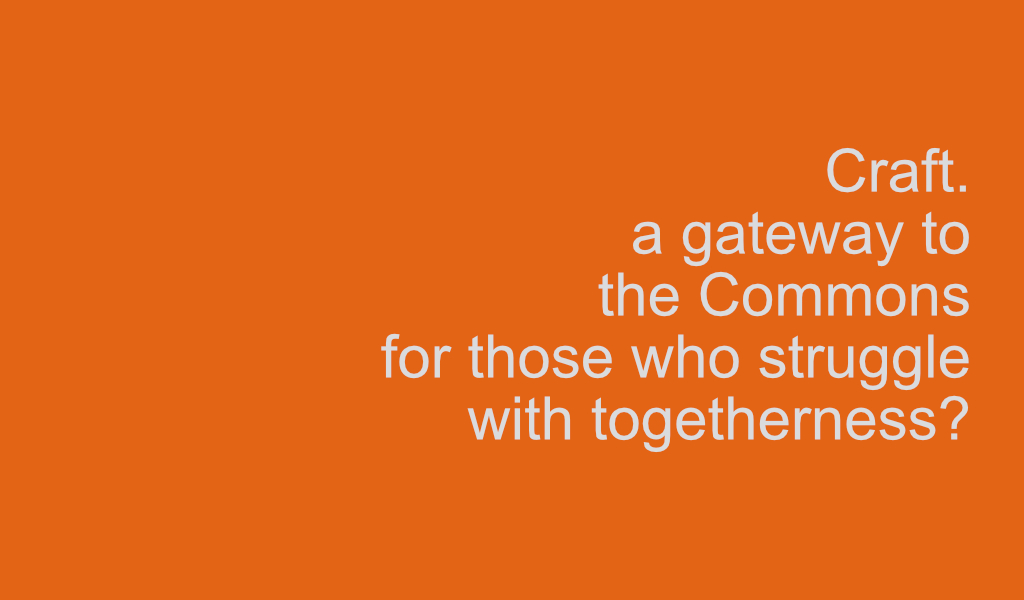 The inaugural session was dedicated to neurodiversity, purposefulness, and the place of Craft and the craftsperson in the commons. Craft can enable different levels of engagement with the commons – for both practitioner and participant – that can be particularly suited to neurodiverse people, and this is something we should explore further. With both neurodiverse and neurotypical people in attendance, we discussed how Craft practice mediates engagement with the commons in a way that allows to 'not default to togetherness', effectively making Craft a gateway to the commons for people who might struggle with togetherness. For example, by setting instructions for engaging into a commoning activity, the craft practitioner remains one step removed from participants, altogether whilst allowing them to partake in a commons in their own time and on their own terms. We also considered that commoning doesn't happen just person to person; commoning can happen across generations and with the land, with the materials themselves and the skills.
The second session centred around the question of the payment and crediting of participants in the context of co-creation. We considered the ethics, opportunities and pitfalls of bringing in a financial transaction into an act of commoning. While payment can serve many positive purposes – incentivising participants, valuing time and expertise, recognising work, breaking down barriers to participation – it can also be problematic, notably when considering the ramifications of the monetisation of culture and social interactions in a capitalist society. Appropriately valuing the time, knowledge and skills invested by participants within the (financial, cultural, social etc) means of the project team is essential and so is crediting in that it helps uphold the collaborative nature of the work whilst articulating the different types of creative ownership/agency/impetus of all involved, artists included.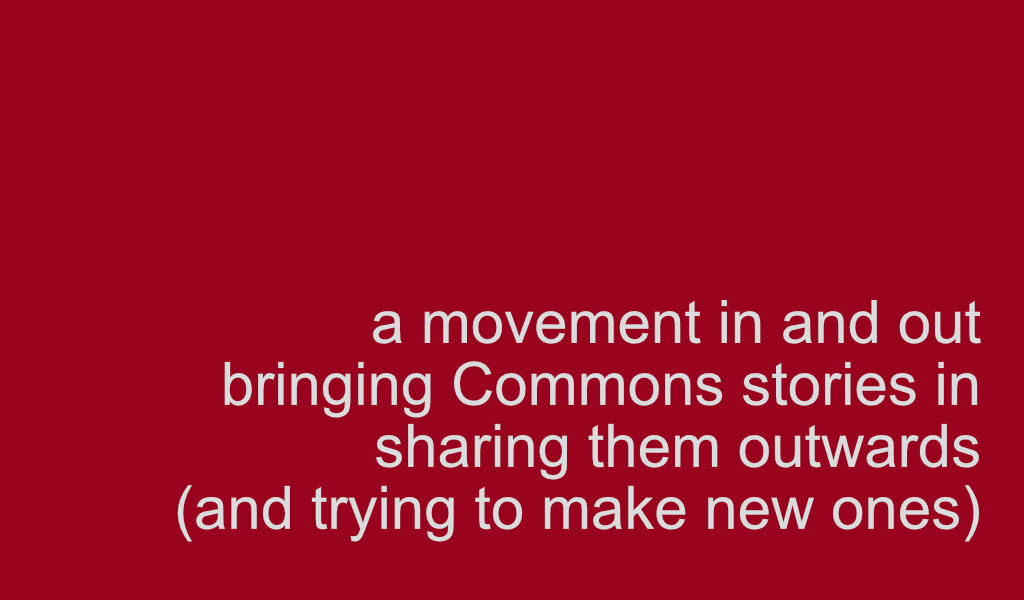 The final session was kickstarted by a commoning activity led by Shane Waltener of Common Agency Projects, who provided participants with a commoning score that invited them to explore their direct environment. The result was a thought-provoking hybrid experience, mixing the verbal and non verbal, bringing forth an altogether different way of being together online. The exercise was followed by a discussion exploring our purpose and future as a group. 
What kind of common can we create as a geographically distributed group of creative practitioners and academics? Can we be commoners without a shared commons to look after? What is the role of the craftsperson in the commons: facilitator? mapper? contributor? Pondering these questions and a few more, it became apparent that despite our lack of a shared common, what we held was a collective desire to uphold the ideas of the commons and to support each other to do so as we come out of the funded period of the network. To quote some lines from the zoom chat, "our commons thinking is trying to understand how they operate, or we can operate within them", "there is a movement in and out – bringing Commons stories in, sharing them outwards (and trying to make new ones)".
Interestingly, the idea that we could continue to come together with no agenda, no obligation to be productive, no incentive but our shared interests, felt novel and liberating.  To borrow Amy Twigger Holroyd's formula, what we seem to have created through coming together is a form of 'gentle commons'. A side step that nonetheless holds us together, an anchor and a promise to gather around our deep commitment to putting the commons in practice. May long it continue.