19 Jan

Is this a commons?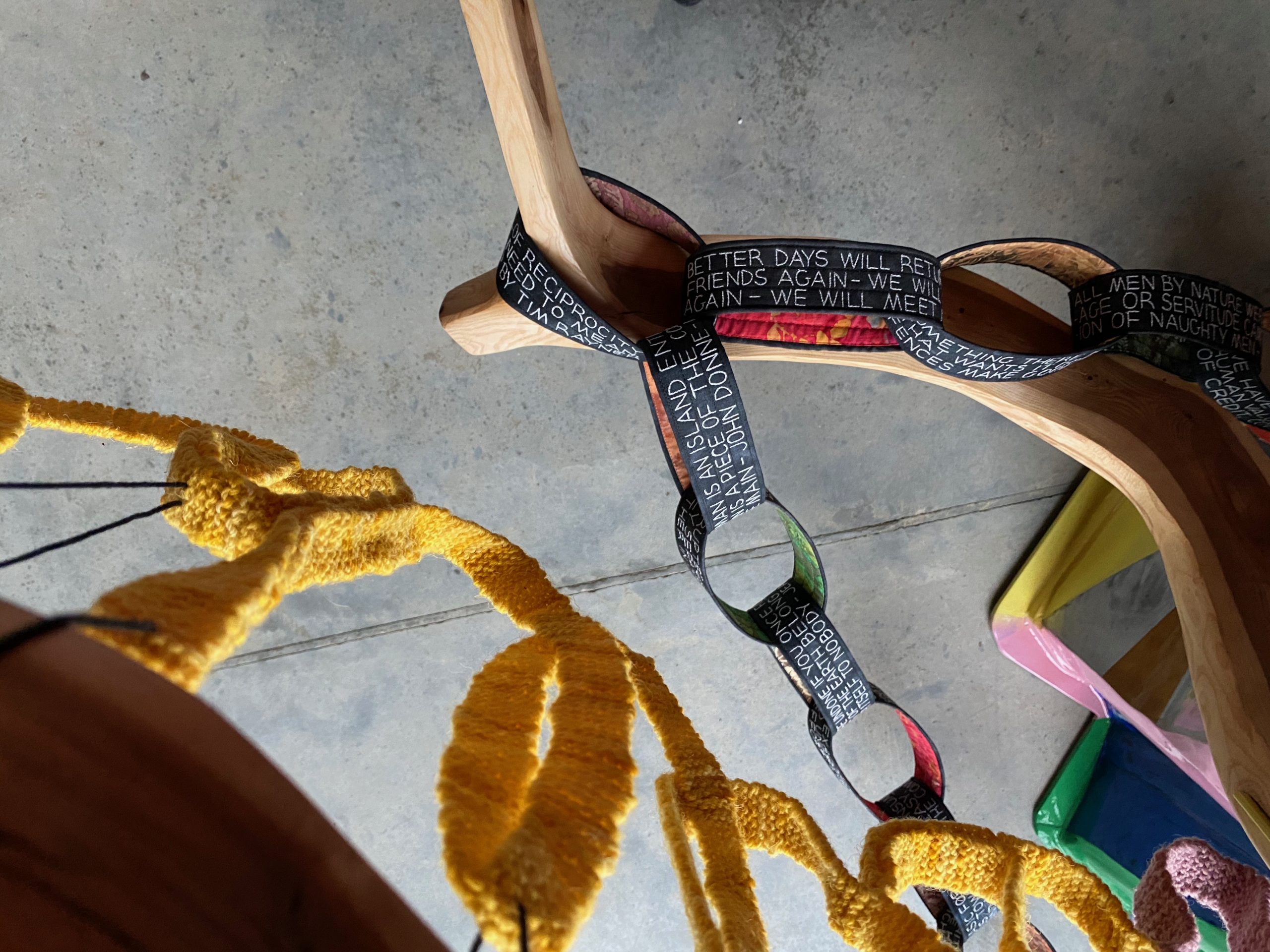 post by Ben Coode-Adams
---
THE BLACKWATER POLYTECHNIC
I am an autistic artist and maker of things. I live on a fruit farm near Colchester in Essex. I am part of the Blackwater Polytechnic which is an exhibiting collective of makers and artists from the villages of Coggeshall, Feering and Kelvedon. It's specific.
As part of the Crafting the Commons Network we hosted network members at the Blackwater Polytechnic 26th/27th November 2021
Our valley while not much to look at has been heavily occupied and at times contested since the end of the last ice age some 12,000 years ago sitting as it does at the southern extent of the ice sheet, always on the edge. Since that time it has been a geographical and cultural fissure between residents and incoming migrants from across Doggerland. It would be fair to say no one is from here. We are all incomers.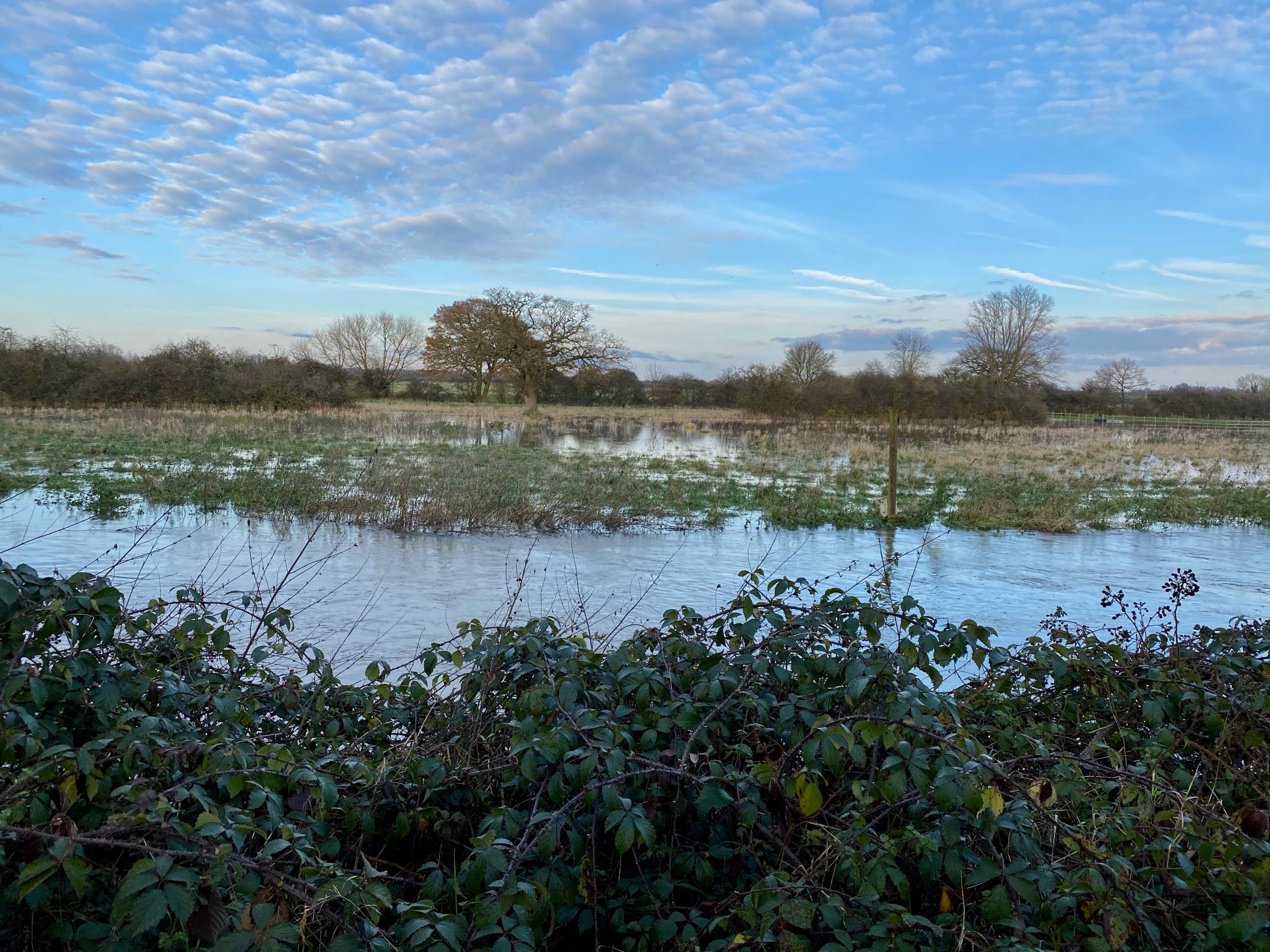 WHAT COMMONING MEANS TO ME
I find the idea of commoning bewitching mainly because of my special interest in fairness. Commoning does seem to be an ethical way of operating, all things being equal.  I kind of don't get it and I want to take apart the commons to see how it works.
For me a commons has a resource to be shared. The purpose of the commons is to activate that resource for the common good. Traditionally this might be grazing rights, or peat cutting, but has come to be a tool bank, a kiln, or a printing press as is the case with the our neighbours at the Colchester Makerspace.
To complicate things the resource might be a skill. This skill can be viewed as power, as indeed any other resource might be. This is the area that interests me because this is where commoning and craft collide. And perhaps the question for commoners is 'How do we make the power flow?'
It strikes me that one end of the spectrum is a category of commons that is where the skill holder is able to work within a commons with purpose, sharing their skill, where that person is invigorated by the commons which is a motor for new directions and initiatives in a loop of renewal. In my practice I strive for this.
As far as I see it, at the other end of the spectrum is the more traditional hierarchical category in the arts which is to have a priesthood of skill working away behind closed doors with the precious things, until the moment of perfect pure presentation to the people. During this presentation the people must behave in the way prescribed by the priesthood often under threat of sanction if they do not conform. This would usually entail reverence for the precious things, decorum in behaviour, respect for the hierarchy of functionaries, acknowledgement of the superiority of the official canon, staying on the public side of the line and often some form of financial exchange. I am comfortable with this model. I have imbibed it from a young age, it was built for me to enjoy. But it is deliberately and institutionally exclusionary to its core. For people for whom this system is built it works and seamlessly. All the included people understand the codes. These codes are one of the things that excludes everyone else. Who is allowed to access the codes, and who can afford to access them is key.
I would suggest that Wanstead Flats (see below) a traditional common, actual falls more into the second category, as behaviour has to be controlled for everyone to enjoy the space, up to and including erasing the traditional grazing function of the commoners. Footballers have special privileges with permanently marked pitches.
There are of course many shades between these two positions, but in my experience even galleries that are trying to do more inclusive things are merely scratching the surface.
I would like to say that I am inside the priesthood as Chair of the Victor Batte-Lay Foundation which owns and operates the Minories Art Gallery here in Colchester. But it turns out we are excluded, not as we would like to think because we are heretics (although we are) but because we simply don't matter. Our heresy is of no consequence. Which is wonderfully liberating and terrifying.
I've learnt each case of commoning has to be taken on its own terms.  Commons are delicate ecosystems of give and take. Generally people are just trying to do their best and that's a wonderful thing. So I have to remind myself to not be such a hard arse.
From my observations it is very typical for community organised commons to move through many different phases of leadership structure, varying in formality, and back again over time. It is rare that even the most self-consciously self-aware commons can maintain distributed leadership, a pure commons, for any length of time not least because to do this is very time-consuming. People just have differing levels of investment and motivation.
It is clear that there is no aesthetic conformity amongst commons. Ultimately this is the point of friction I think. We want our commons to look how we think commons should look. So sometimes a commons is invisible because it doesn't conform to how we think it should. And very often visual markers are deployed as virtue signalling without the underlying commoning structure.
I think one of the dividing lines comes down to mess. For me to enjoy and be interested in a commons it needs to be messy. I'm not interested in polished. I like the process of arriving at a conclusion to be visible through the mess. I want to see how the thing works. I realise mess is troubling to many people and is broadly speaking inimical to our habits of presentation across the arts, indeed across life. Presentation means 'scrubs up well'.
THE VISITS
In this final phase of the Crafting the Commons networking I was able to undertake some meetups and visits with: Sophie Arstall, Justine Boussard, Rachel Colley, Laura Glaser, Justin Marshall, Deirdre Nelson, Jacky Oliver, Freddie Robins, Giuseppe Salvia, Amy Twigger Holroyd, Shane Waltener amongst others. Good times.
The descriptions below are out of chronological order. Sorry about that.
Out of those discussions and recent conversations, ideas about commoning I remind myself to bear in mind are
Time is an active participant.
There is some correlation between:

expediency (circumstances have to come together)
fragility (it's inherently risky to try to establish a commons however brief)
entropy (things want to fall apart)
ambition (there has to be a certain will to hold things together)
success (whereby the resources, skills and energy of the commons are shared)

The common good remains at the heart of the commons.
Thank you Giuseppe Salvia for reminding me of this. It is this last idea that I think we should be holding on to. Whether an activity is a commons or not is not as important as whether it is actually a good thing.
On 27th November everyone came out to the Polytechnic where Shane Waltener led us in a commoning action using alder poles. And Cecilia Knopp prepared a delicious vegan lunch. Thank you Cecilia. Then we visited the studios of Simon Emery – The Paintbox, Justin Knopp – Typoretum, and Sara Impey – the Blackwater Polytechnic members.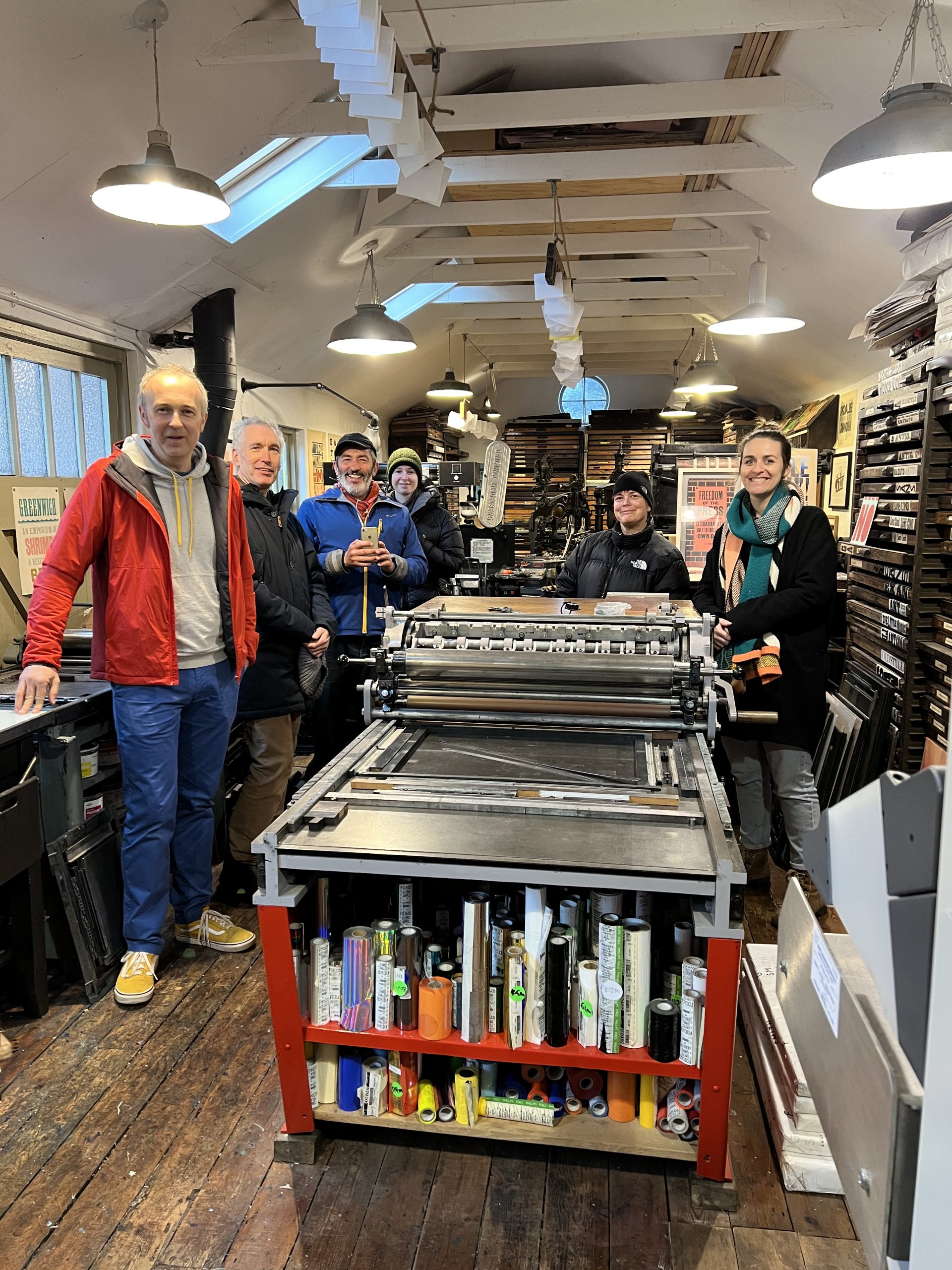 Rachel Colley wrote:
Colchester conjures thoughts of England's rich history, of the glamour of the Romans and their brutal slaughter at the hands of Boudica. As someone who has a habit of wandering around looking at the ground, I found myself grounded further, as I absorbed the amazing tour Ben gave us around the town. The thought of the many hidden archaeological layers receding further into the cold chill under my feet was quite overwhelmingly wonderful.
As well as visiting art galleries and historic sites of interest in Colchester, on the second day of our trip we headed out of town to visit the studios and workshops of the artists who form the Blackwater Polytechnic. Artist Shane Waltener also joined us to lead a site specific Commoning Action, which we collectively participated in and were invited to write a score for. I found the unspokeness of the action freeing and calming and so proposed a visual, diagrammatic score that could feasibly be interpreted by anyone in unending iterations, forming and reforming layers and histories grounded in unspoken communication, the type of which could be 'read' and 'performed' at different points in time around/across the world.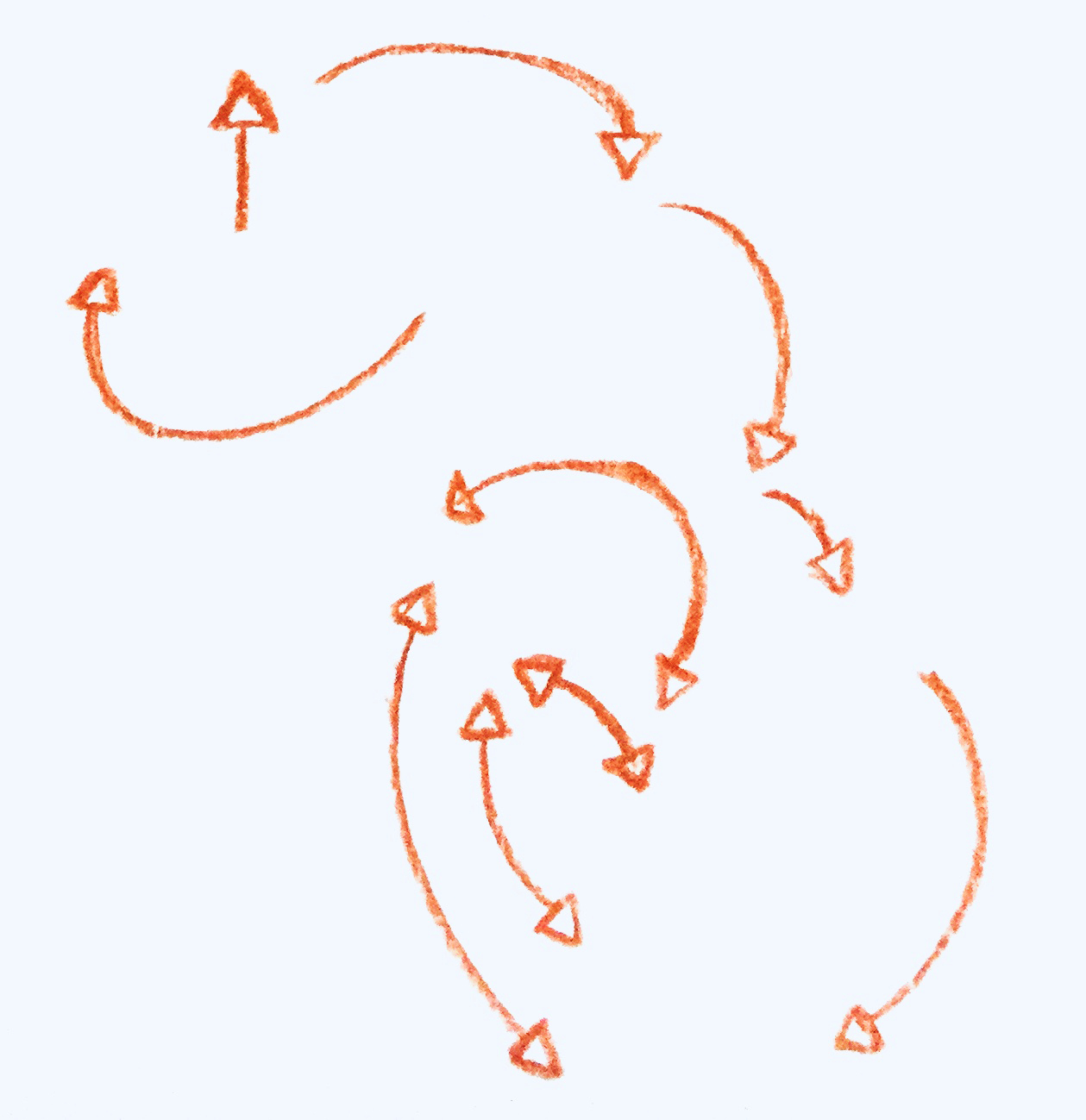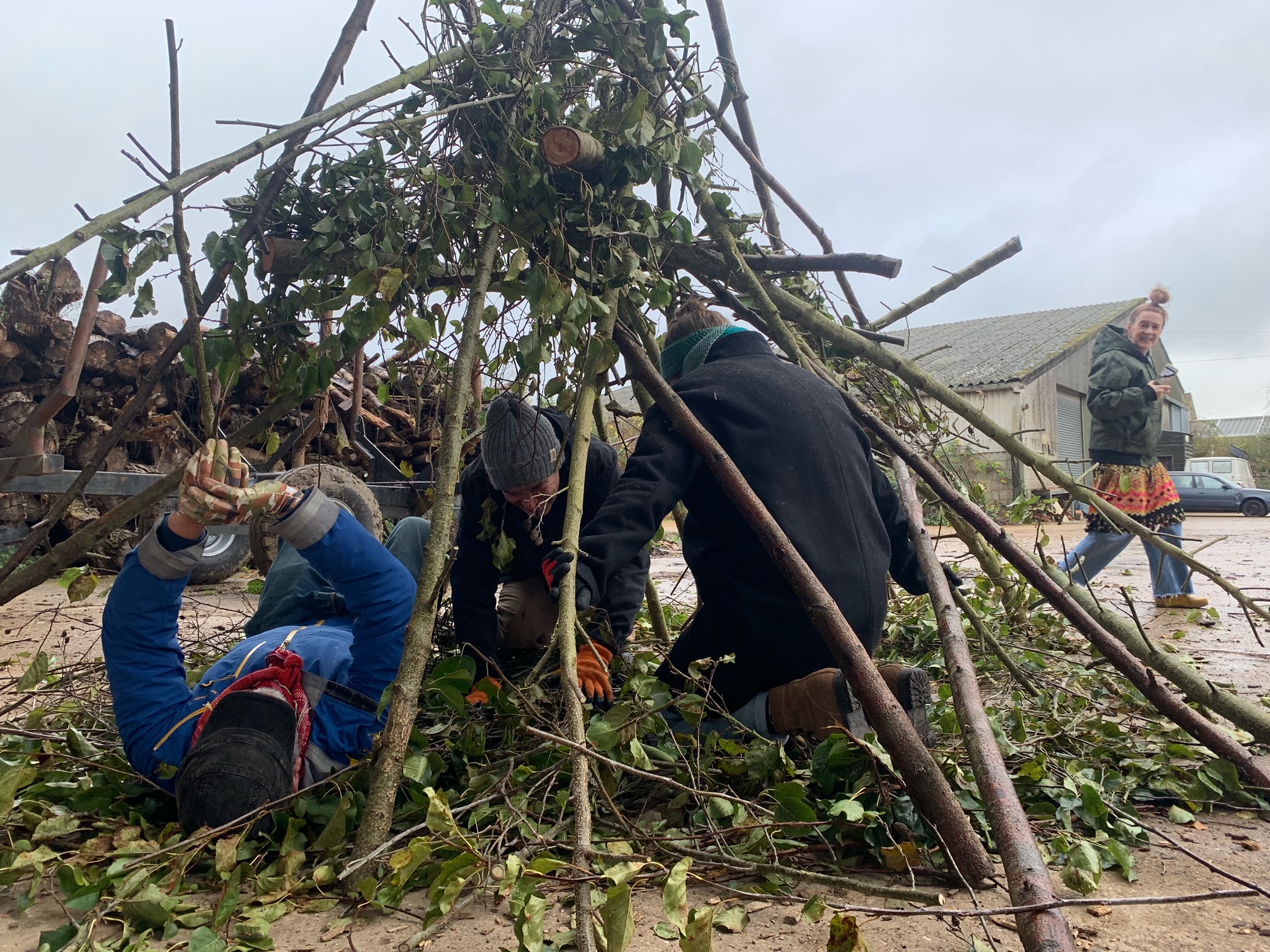 At the end of the first day we ended up at the Minories Trinity Square. We undertook parts of a workshop which I have run before and described in my previous blog post written a year ago today. This involves hand eye mind dislocation, mind softening and bathing in colour. It includes painting with watercolour, and meditation which culminates in a shamanistic spirit journey. In this last phase participants are invited to descend to the spirit world armed with a sword of energetic light, an ever lengthening Ariadne thread and a question. Apparently many people think spirit journeys are strange and probably 'woo woo'. I thought everyone had done this kind of thing. I've always really enjoyed them and found them to be useful in stripping away the nonsense.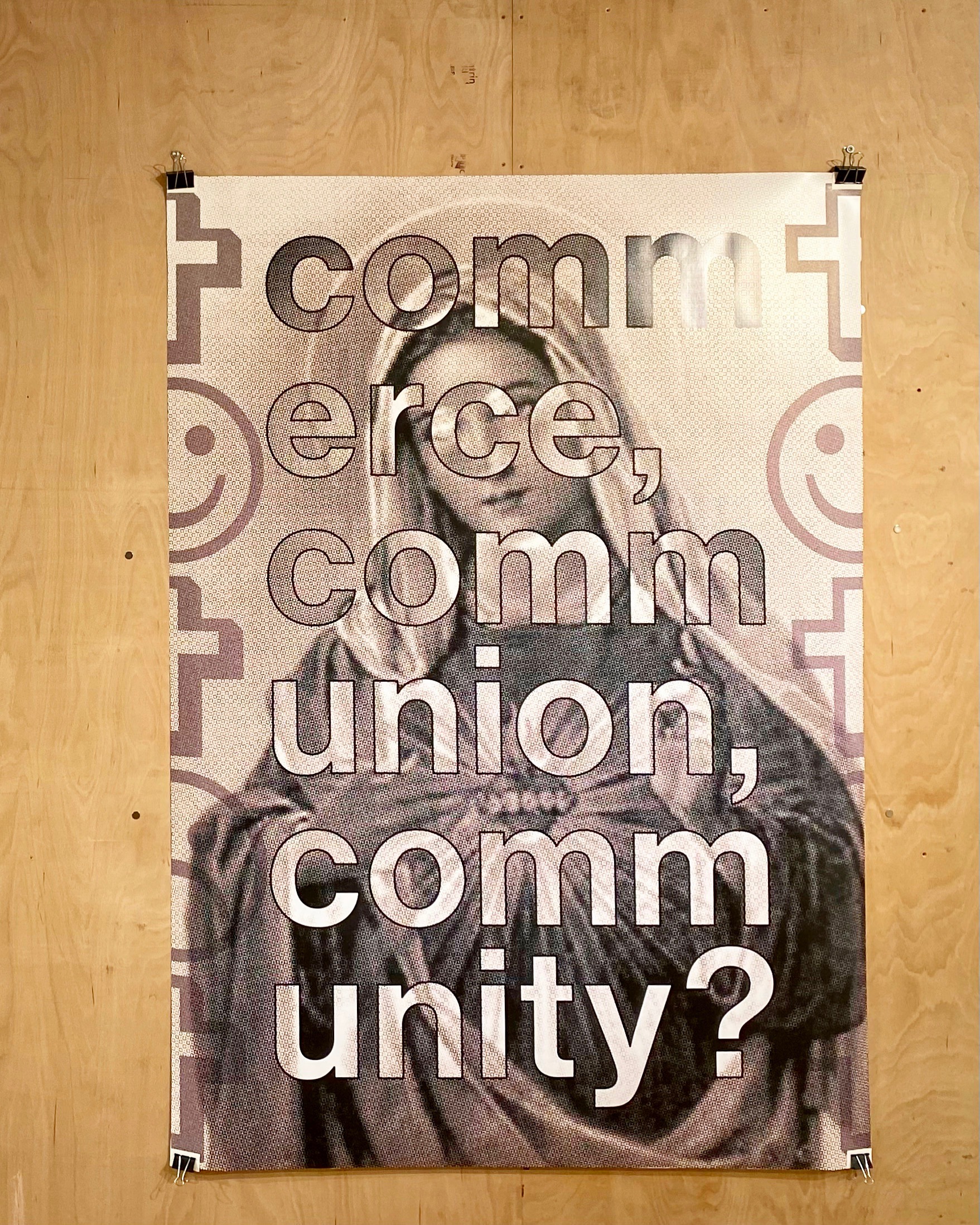 In my own spirit vision I travelled through a forest, followed by entering a not unpleasant and very neat well-lit earthen tunnel. After I emerged from the tunnel I found my feet to be very firmly and unmovably stuck to the ground. This was not unpleasant. In fact it was energising. I took the meaning to be that I should be still where I am and derive strength from that.
VISITING WITH COMMON AGENCY PROJECTS
1st November 2021 I visited Common Agency Projects – Shane Waltener and Laura Glaser on Wanstead Flats with Justine Boussard and Sophie Arstall. Shane and Laura have been working in this area for some considerable time and are familiar with its contours and rhythms. Laura is a trained dancer and Shane has been interested in dance for a long time and often uses purposeful movement in his work.
Wanstead Flats is a common in the oldest most traditional sense. People have grazing rights here although now moribund. In this part the Flats are indeed a flat expanse of former grazing land now largely mown. It contains wooded oases which appear to be fairly uniform in size but vary in tree and plant species and consequently in density and scale of foliage.
I very much enjoyed my afternoon on Wanstead Flats, not least because I was drawn into thinking about the way performers and audience work, locked in their own dance, the latter anchoring the former.  I was challenged about the way I thought land is occupied by people, how that occupation can move around, slipping in and out of phase.
As it happened two days before this trip I had been to see the Royal Ballet perform the Dante Project, an imagining of Dante's Inferno with music by Thomas Adés, choreography by Wayne McGregor, and design by Tacita Dean. This might be seen as occupying the quintessentially hierarchical traditional presentation model, with extreme levels of skill and specialisation. It was superb.
Consequently I was in a frame of mind thinking about the distance travelled from the Royal Opera House, and everything that goes with that, to Wanstead Flats with Common Agency Projects. Maybe it's an autistic thing but I often forget that audience members bring their own preoccupations to an event which become part of their participation, usually unshared with the performers.
With Common Agency Projects I was acting as a roving audience member and participant in some follow-my-leader type movements. Rather than as at the Royal Opera House being sat in a seat, encouraged to move as little as possible and to BE QUIET.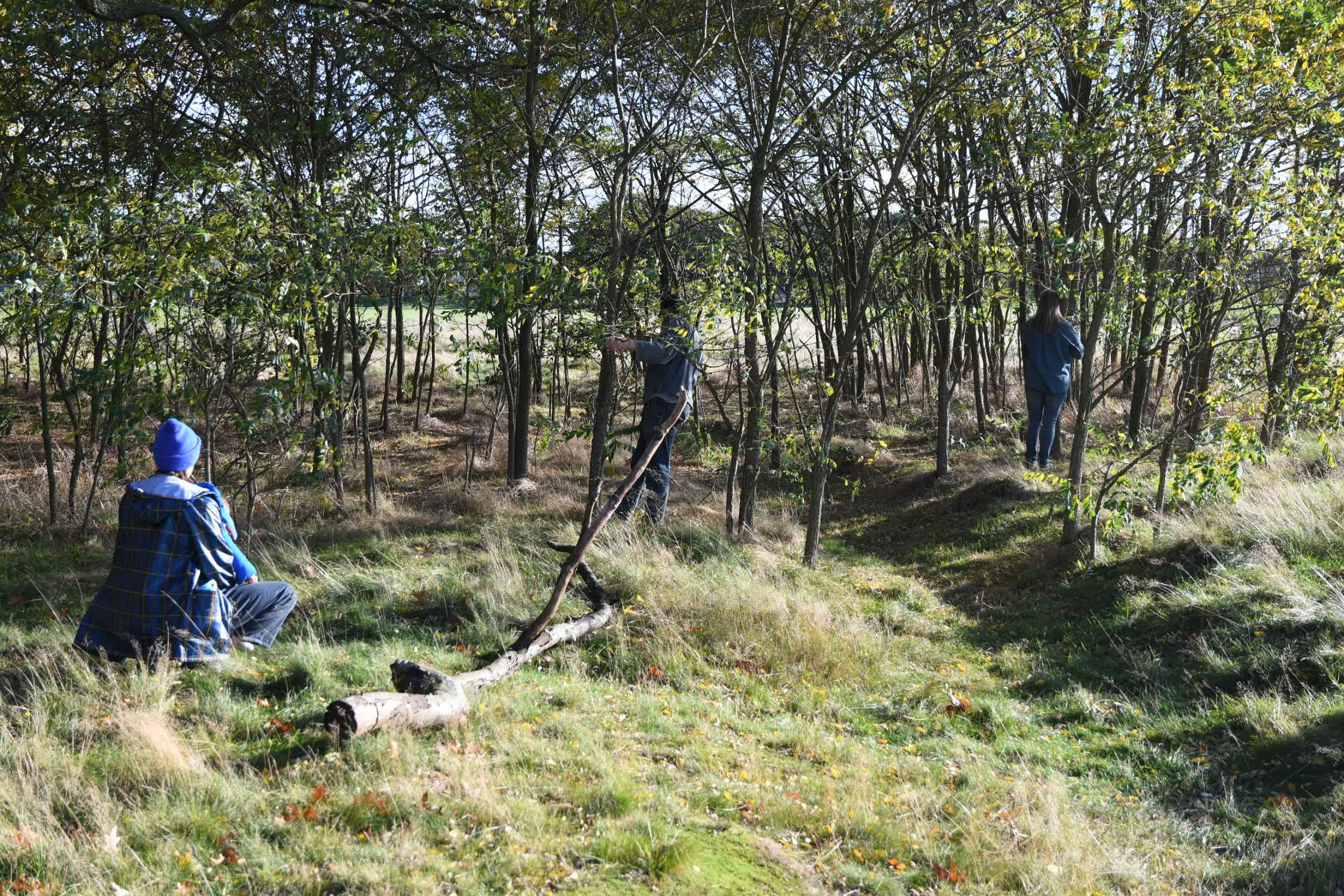 The aim for Common Agency Projects I believe was to create a flow between the performers that somehow captured the ground for that moment in a significant way, as Shane writes 'to reflect on what we understand as a creative commons, craft-as-performance and performance-as-commons.' As far as I understand it Shane and Laura were aiming to develop movements that corresponded to the morphology of the terrain; doing this through tropes of contemporary dance. Shane and Laura observed the conventions of not talking, not acknowledging the other performer's presence and not making facial expressions. They held their bodies and limbs in significant purposeful ways that are not part of everyday unconscious movement. In this they demonstrated physical skill derived from experience and practice developed over time, combined with inventiveness, and intention – in short craft.
The performance contained a moment of communal privatisation, reflecting the rules of the ancient commons of the Flats. 'You are included but you are excluded'. The difference is that now this is time dependent not based on perpetual hereditary rights. This is temporal privatisation is tolerated, understood and respected because everyone wants personal bubble space for various functions. The bubble collapses at the end of the event.
During the performance Shane and Laura held the territory in which they operated, effectively excluding others – both audience and passers-by. Shane and Laura's work reflected how other people's activities occupy the Flats in this respect. They held the space much as a game of frisbee might, similarly at risk of interruption by dogs, small children and emboldened curious adults but not as exclusively as say a picnic or barbeque where even a small child would probably not be overcome by a desire to join in – although a dog would. In this there was an element of poise, and an intuited level of acceptability.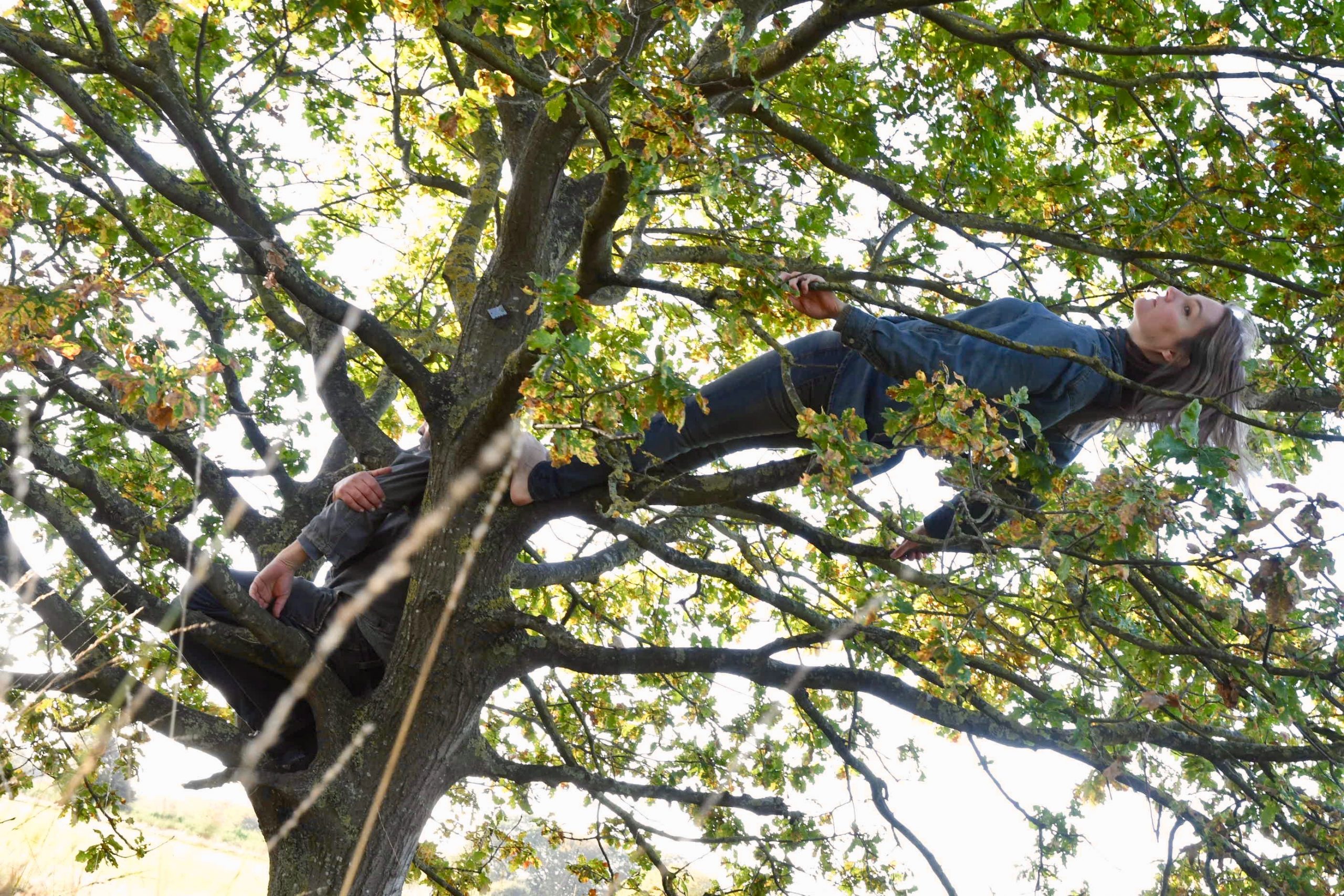 Shane and Laura's clothes were dyed by Shane with plants from where the performance took place. Although barely perceptible this further set Shane and Laura apart from the audience in a shamanistic fashion.
In all of this our, the audience's, agency was to watch or not watch, but that should not be underestimated as a powerful component of participation. The audience acted as a literal anchor to the gyroscopic oscillations, floppings, climbing, clinging and flinging of the dancers.
For me the significance, in understanding the commons way of thinking, of Shane and Laura's performance lies in its repeatedly crossing backwards and forwards across the boundary between public and private. This speaks to an ancient conception of commons which even contemporary commoning must come to terms with.
GLASGOW
On 30th November I headed to Glasgow to visit Deirdre Nelson with Justin Marshall and Giuseppe Salvia. Deirdre organised a fascinating and wide ranging tour of community projects within walking distance of her home. We visited Battlefield Community Garden.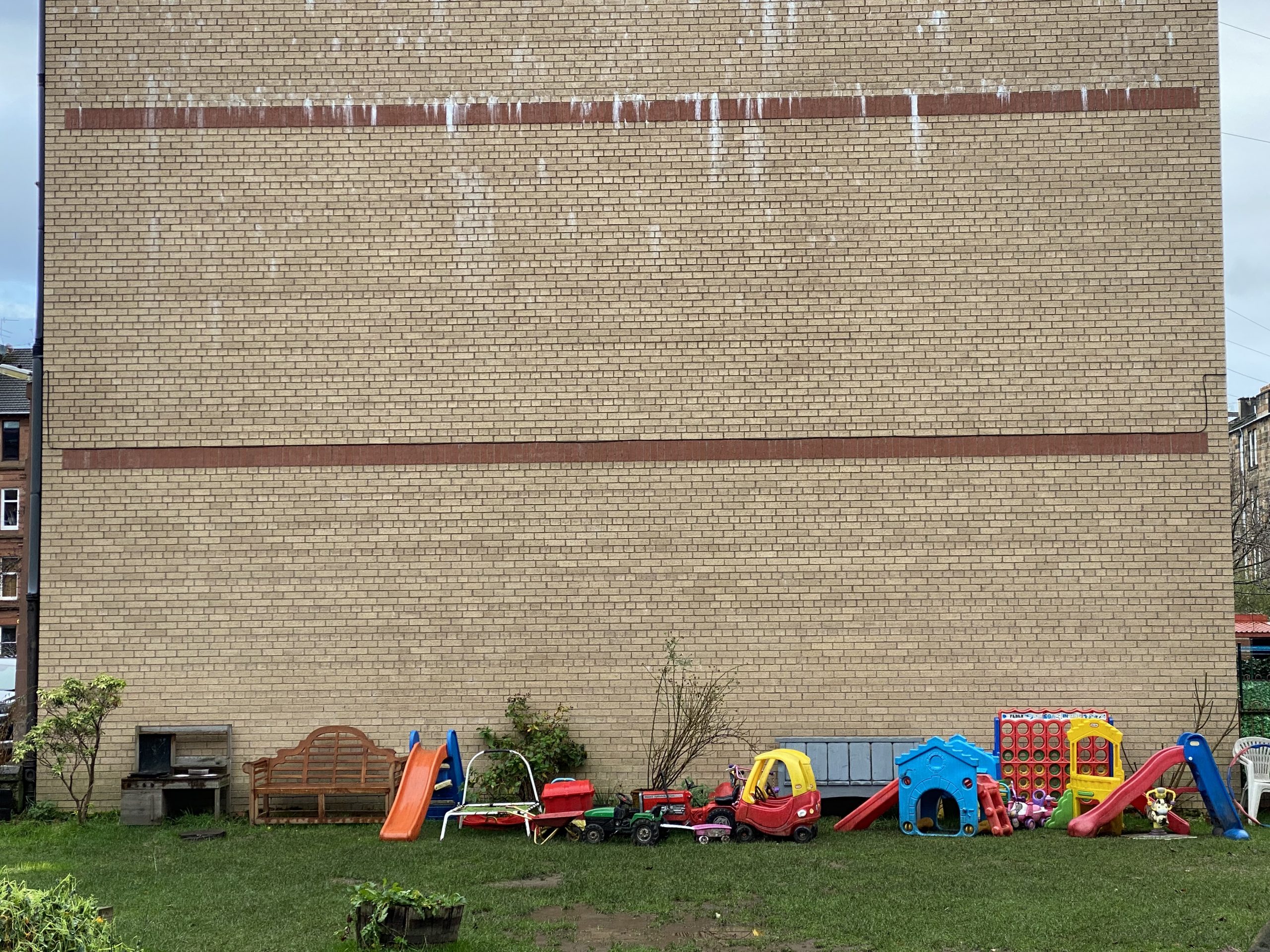 'Our Lane' is a lane at the back of two tenement streets that was intended to facilitate rubbish collection. The lane was never paved and has been occupied by the residents for community events, growing and socialising. It is open to all. This contrasts with a neighbouring lane where the residents have kept the it for its original purpose, bin storage; but with the help of a grant the lane was paved and gated.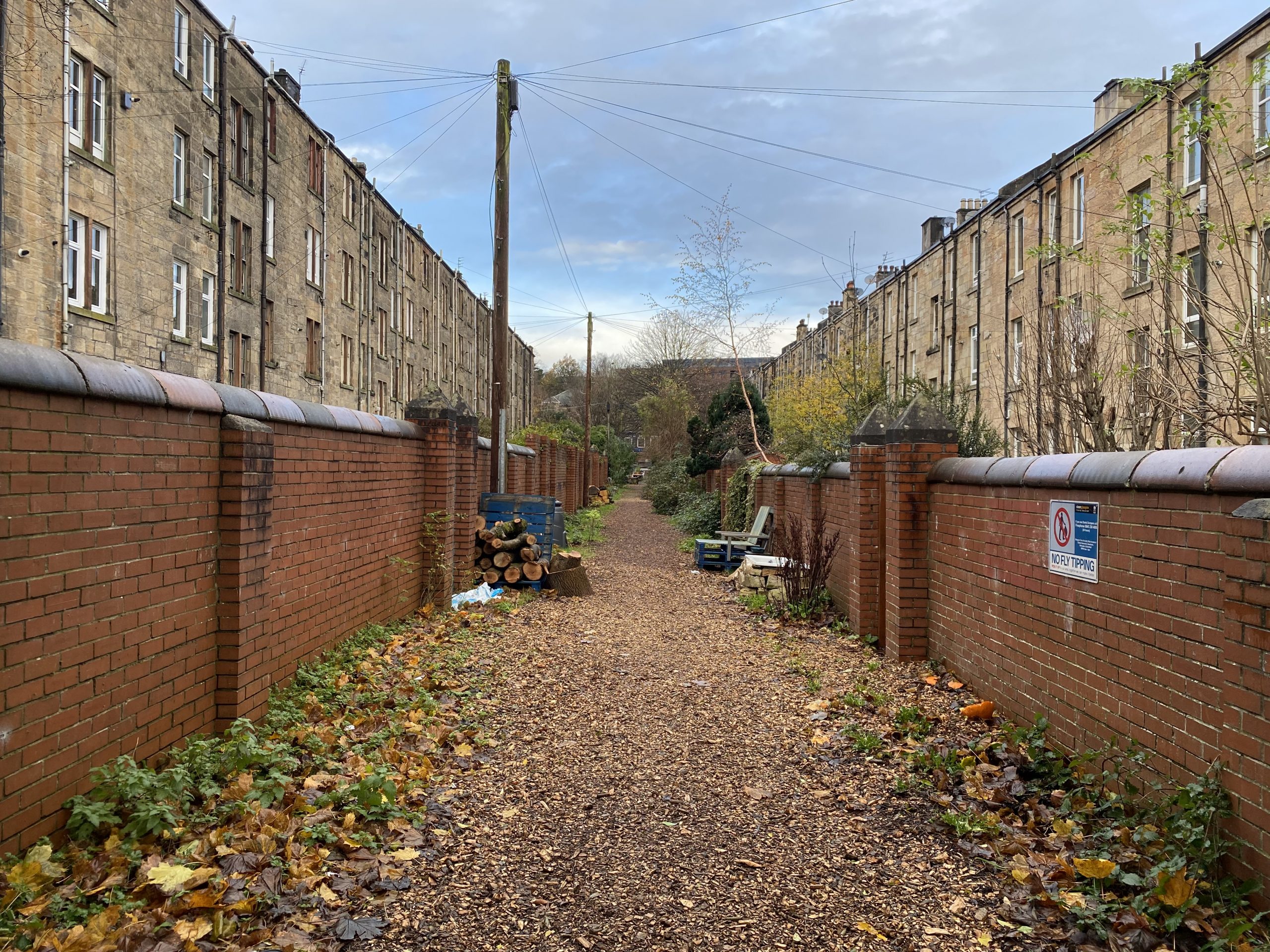 Both are commons of a sort in that they manage a shared resource for the common good. But Our Lane clearly has a higher Common Good quotient, open to all, which comes with a good deal of entropy and messiness. The neat lane, is… well neat; and that's nice I suppose.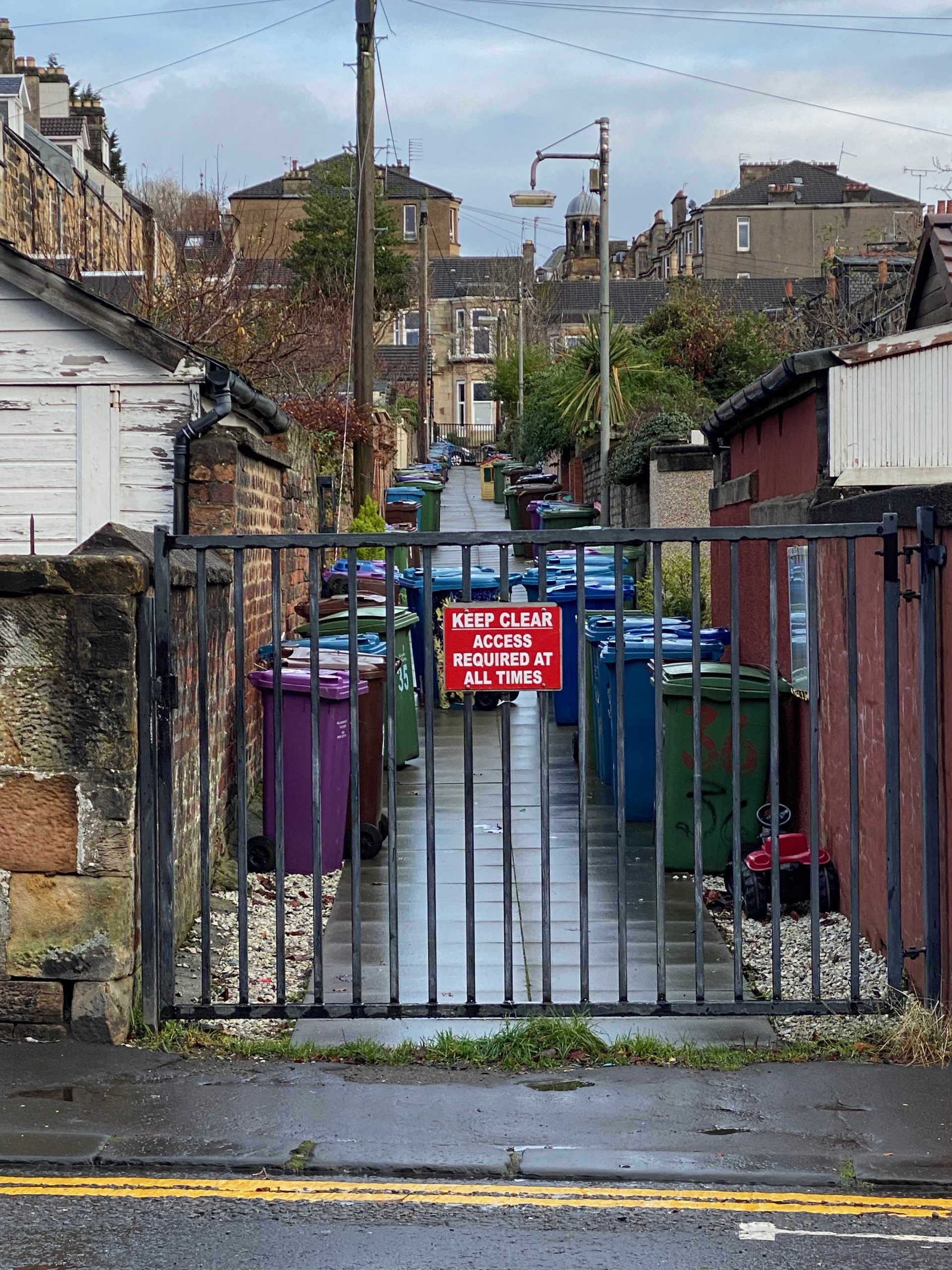 We then went foraging in Queens Park with Jemima Hall. Queen's Park has at its centre an iron age fort which is amazing. And I was quite over excited by that. I am troubled by foraging as I think we (in temperate developed prosperous UK) should only consume what we have purposefully grown, leaving the stuff one might forage for the organisms who depend on it, particularly in tough climatic conditions. But I live in the countryside and work on a farm and I can absolutely see the joy and benefits of foraging. Jemima has some nice ideas about slowing down, and savouring which I enjoyed.
APPENDIX
SOME THINGS TO THINK ABOUT WHEN FASHIONING A COMMONS.
The following check list came out of discussions with Giuseppe Salvia, Justin Marshall and Deirdre Nelson that we had in Glasgow fuelled by other discussions with the network members.
Always ask 'Is it safe to cross the road?' (Crossing the road as a group of equals, a commons if you will, is a micro challenge of leadership and resolute following involving spoken but mostly body and movement cues. Do we all die together or are the stragglers left behind splattered?)
By which I mean make sure your environment is safe to start work. Aside from physical dangers and risks, this might include an assessment of power structures and areas of privilege, that do not need to be exhaustively enumerated, but might risk exploitation if these things remain unacknowledged. For example some participants might be paid others not. Where does that leave everyone? Even if unresolved, power structures are always better revealed.
Fragility, vulnerability and risk should be embodied in the Commons. It could be true that the greater the risk the greater the reward.
In our discussions and investigations we felt a useful analogy for the commons was quantum physics where particles operate both along a wave and in a field in a classic paradox. The observer can look at Commons as flowing and oscillating, between for example, moments of preparation and moments of performance, between success and risk. Many Commoning dualities can be expressed as peaks and troughs. If overlaid it is possible to see if the frequency is amplified or a dissonance will occur that will negate or collapse the Commons. I like the wave analogy because it incorporates time and intensity. In my experience it is often too intense to maintain the wave of the Commons over a long period of time and so waves of intensity are infrequent.
Reinforcing and balancing is the mechanism by which the wave is supported. Reinforcing implies a notion of propping up either from inside or outside. Balancing implies a poised tension.
In Giuseppe Salvia's original drawing in my notebook of the Commons as a field, he placed the Common Good at the centre of concentric circles where the participants act on it feeding in shared skills and resources.

The participants can be seen as a field with an initiator at the centre, and levels of engagement spreading outward overlaid with notions of benefit.
Are skills just another resource? Skills develop over time so with each performance or iteration of a commons skills increase. Skill does embody authority and therefore power.
Commoning can be divided into actual Commons that exist more or less permanently to manage a constant resource and Acts of Commoning that are time limited where the resource is limited for whatever reason. Often in the latter case a 'management committee' will prepare the ground and gather the resources for the Act of Commoning.
An Act of Commoning is the turning over of a time and place to a Commoning activity.
Both situations must:
BE FOR THE COMMON GOOD
The outcome must benefit participants significantly and audience members/viewers to some extent as well as raising the quotient of goodness in the community. This is an area of contention. How far does 'the common good' need to stretch?
Do not underestimate the benefit to apparently passive audience members. Watching and looking can be active modes of community as well as power exchange. The subjects give permission to be acted upon, and/or led. This permission should always be conditional.Chose which mode you are in or not. It's all good
Commons can exist with thousands of members or just a handful, for years and for a finger snap.
Commons often embody rules that all members must agree on, or agree enough to allow the commons to function as such. It is in rules that things can become messed up. So I would leave them out and let things evolve.
In both Commoning and Acts of Commoning initiating-type-leadership should aim to be dispersed once the commons is engaged. 
Leadership is only one mode of participation that commons require to exist. Even within leadership there are different roles.
Have clarity, be explicit.
All commons move through different phases or modes of operation over time. These might be private or public phases, moments of action or moments of reflection or moments of preparation. Commoning can be extremely robust but is mostly quite fragile. One of the strengths of successful Commoning is that it is absorbent and flexible. Some Commons are extremely rigid but most are quite soft which is nicer.