07 May

We Are The Embroidering Digital Commoners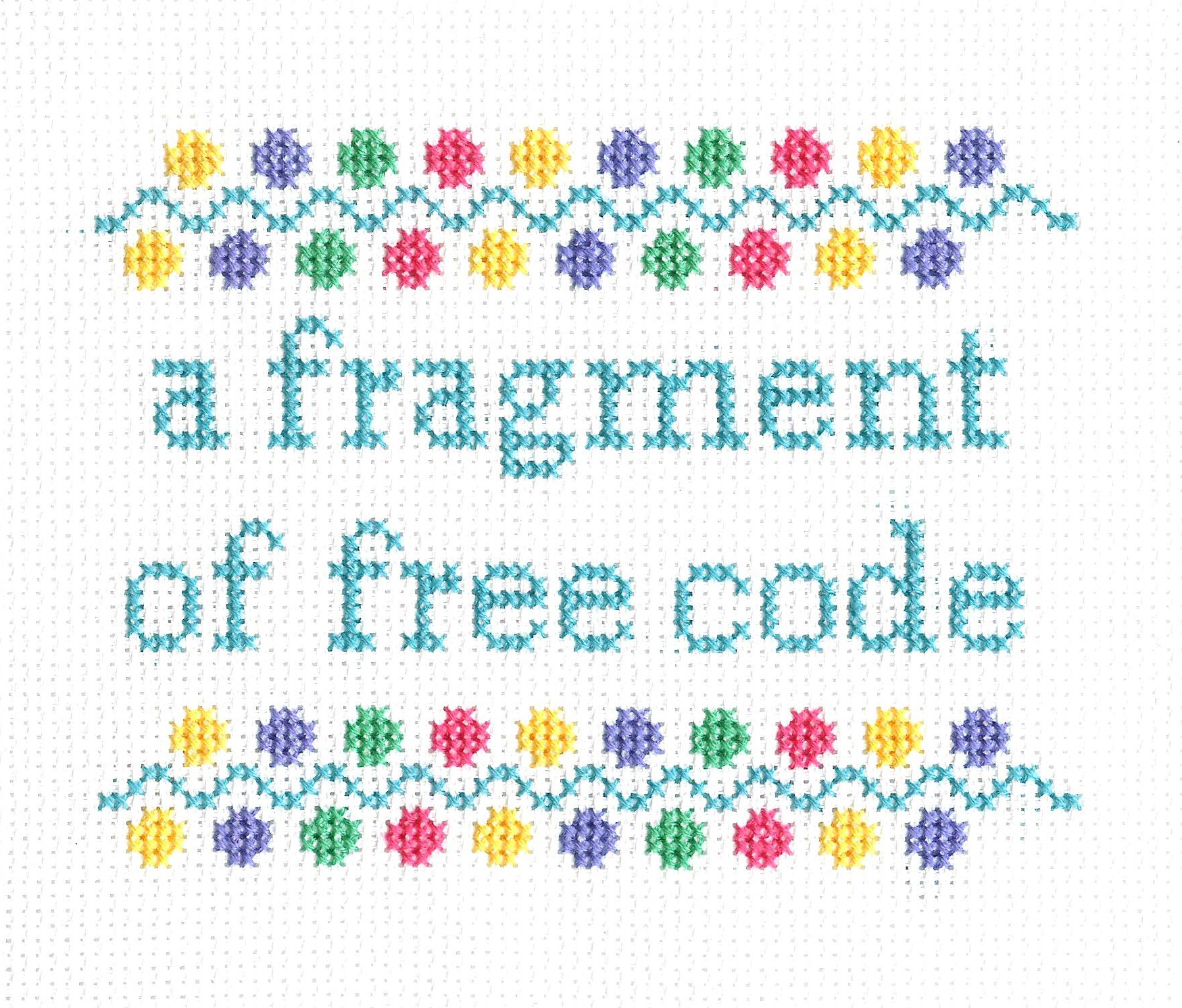 Each member of the Crafting the Commons network has been invited to write a post for the blog, capturing their thinking about commons and commoning as the project unfolds. This post is by Ele Carpenter.
Dr Ele Carpenter is a curator and artist. Inspired by Paul Baran's Distributed network topology for the internet, designed to withstand a nuclear war, and a residency at Access Space in Sheffield, Ele developed the Open Source Embroidery to investigate the relationship between code and textiles. She is the facilitator of the Embroidered Digital Commons which will be exhibited in We Are Commoners curated by Craftspace and opening at MAC in September 2020. Ele is Reader in Curating at Goldsmiths University of London, and curator of the Nuclear Culture research project.
---
The Raqs Media Collective published the Lexicon of/for the Digital Commons in the Sarai Reader in 2003, structured around an A-Z of terms which poetically describe the spatial relationship between the digital and the social. Through a series of Embroidered Digital Commons workshops, conferences and online networks, crafters and coders started to embroider the words, to create a giant close-reading and close-stitching of the text. The work has a particular temporality that can be considered, along with the collective and non-commercial communing structures.
The Embroidered Digital Commons is the embodiment of slowness, the lack of pressure. Over the last twelve years people have heard about the project and volunteered to stitch a few words, and many are still stitching now. People often want to know when it started, but that's not really the point. But if you check the credits, you'll see that Yarn was the first term stitched in Sweden. Every so often it's good to fake a bit of a deadline, because some people like to have a time-frame, but it's usually arbitrary. You'll notice on the website that lots of patches are simply written on paper, unclaimed. And that's alright too. It took a few years to realise that the website doesn't have to be complete to make sense, and it might not ever be truly finished. The text has already been written by Raqs, we know what it says, so there no particular hurry to reinvent it. Like any good book it can be read and re-read whenever you like. There's no deadline on reading. In fact, the different interpretations of the text over time make it even more interesting. In this way the work follows the rhythms of reading and creativity, of taking time when you need it, not when it's scheduled. It resists the logic of neo-liberal capitalism with commercial deadlines and the need to constantly 'innovate' or demonstrate economic efficiency. Instead the work evolves over time as it's constantly modified and updated in keeping with the needs of the contemporary moment.
In these crazy times of worrying about Covid-19 and trying to support our families, friends and loved ones, and trying to keep well, the slow-stitching of the Embroidered Digital Commons seems even more pertinent. The only real things we have are our ability to care and be cared for, and as all stitchers know embroidery is a quiet act of care for the self. It's impossible to do when stressed or in a hurry. It forces you to take care, to be calm, to read the words, to listen.
The work is made through rethinking the concepts of the digital commons through stitching, and we can use the key terms of the lexicon to describe the process: The ability to access the project is filtered through social media nodes depending on your bandwidth, which is being discussed as a basic human right. The code is still indecipherable to most, but we know it is used to collect our data. As crafters and thinkers it's hard to consider ourselves an ensemblewhen we can't be physically together. Instead we rely on the fractal operations of code to connect us and enable online gift exchange. It takes work to ensure that our networks are heterogenous, so that every iteration can contribute to a multi-perspective journal of many histories. Starting with the kernel of an idea or a code, exploring the liminalfringes of memes that intersect at the nodes of an exhibition. Ideas orbit around the practice of making something which has portability and can tour physically and online. Embroidery is a quotidian activity which creates many recensions of ideas and words at any given site. Our tools and ideas are ubiquitous, everyday activities for survival. The vector of our work is both the website, the text and the fabric which comes together as the celebration of xenophilly connected through yarn, and consolidated in the zone of the exhibition.
The human/digital networks described in the work are now our life-lines and our bug-bears: essential threads of contact with friends, which are too easily abused by corporate data crunchers to influence elections. But the important thing is that the crafting of ideas, like looking after our health, takes creative time not market efficiency.
We are the embroidering digital commoners.
If you would like to stitch any of the unfinished patches, please email [email protected]
---
Ele Carpenter's writing on craft and code includes:
Open Source Embroidery: Curatorial Facilitation of Material Networks, 2010. Centre de Cultura Contemporània de Barcelona (CCCB). Available at: http://lab.cccb.org/en/open-source-embroidery-curatorial-facilitation-of-material-networks/
Open Source Embroidery: Curatorial Facilitation of Material Networks, In: The Textile Reader, ed. J. Hemmings. Berg (2012)
Open Source Embroidery, In: Connection: Artists in Communication, ed S.Bosch & A.Theis. Interface, Uni of Ulster (2012).
Coal Powered Craft, In: Journal for Modern Craft, Berg. July (2011) .
Analogous: Digital / Analogue Metaphors. In: Digitalis catalogue for Digitalis OPEN, BFI, London (2011).
Social Making. In: The Power of Making. Exhibition Catalogue. ed. Daniel Charny. V&A Museum. (2011)
Activist Tendencies in Craft. In: Art, Activism and Recuperation, Concept Store #3. Eds Cox, Haq, Trevor. Arnolfini: Bristol (2010).
Open Source Embroidery: Curatorial Facilitation of Material Networks, Centre de Cultura Contemporània de Barcelona (CCCB) (2010).