15 Jun

Campaigning for our commons: past, present and future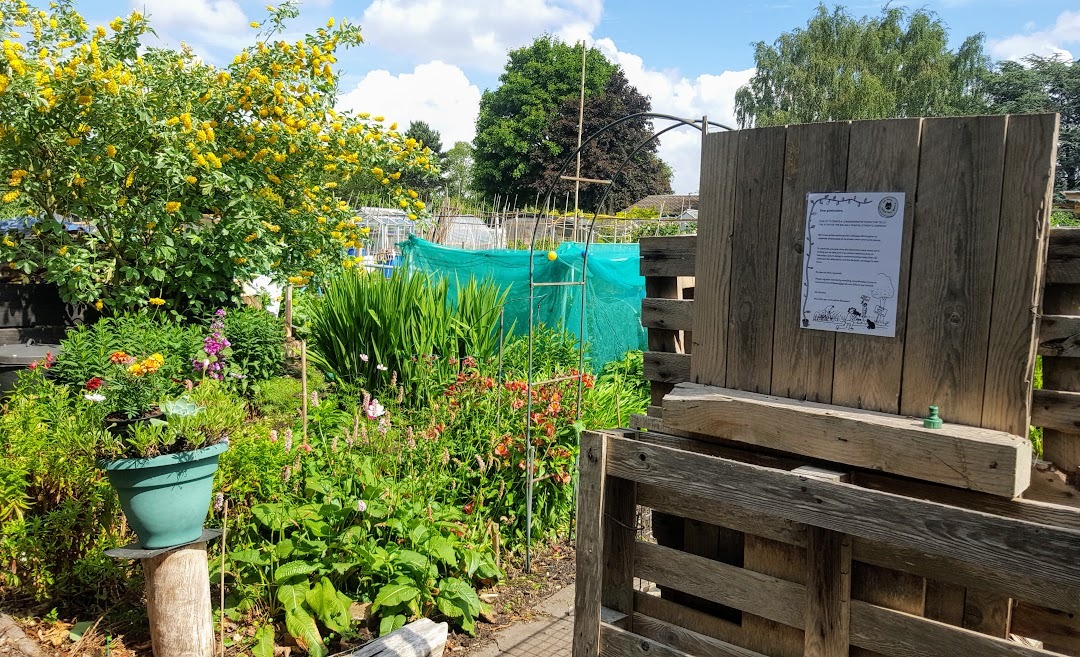 Each member of the Crafting the Commons network has been invited to write a post for the blog, capturing their thinking about commons and commoning as the project unfolds. This post is by Justine Boussard and Alice McLean.
Alice McLean is a jeweller and artist educator working with young people and adults with a variety of needs to build their creative confidence and improve their wellbeing. Justine Boussard is an independent curator and creative producer working to address key contemporary issues through public design interventions and community engagement. They met in 2015 when they co-founded Making Enhanced, a collective of designer makers and design historians working in pairs to expand their practice and challenge their respective limitations. Back then, they developed the concept for Common Ground: a made archive of tokens that would capture and disseminate local stories of acts of commoning past and present. This project is the second in the collection.
---
Common Ground started as an enquiry into gentrification and change. At the time we both lived in South London, and even as relatively new residents, we could see what problems gentrification and displacement were causing in our area. In Peckham, you couldn't go a week without a new coffee shop or boutique opening, replacing the hair salons and food shops of the residents who had lived there long before it became trendy. Not knowing where to start in the face of so much change, we decided to try and understand continuity first. How come some things, only certain things, didn't change? And could we learn anything from those to help preserve what matters to people today? We started investigating the history of Peckham Rye Common, a large open piece of land at the bottom of busy Rye Lane and bordering Peckham Park. How come this large unoccupied green triangle was still there whereas the land was so valuable? It's not even a park! Well, what a story we found.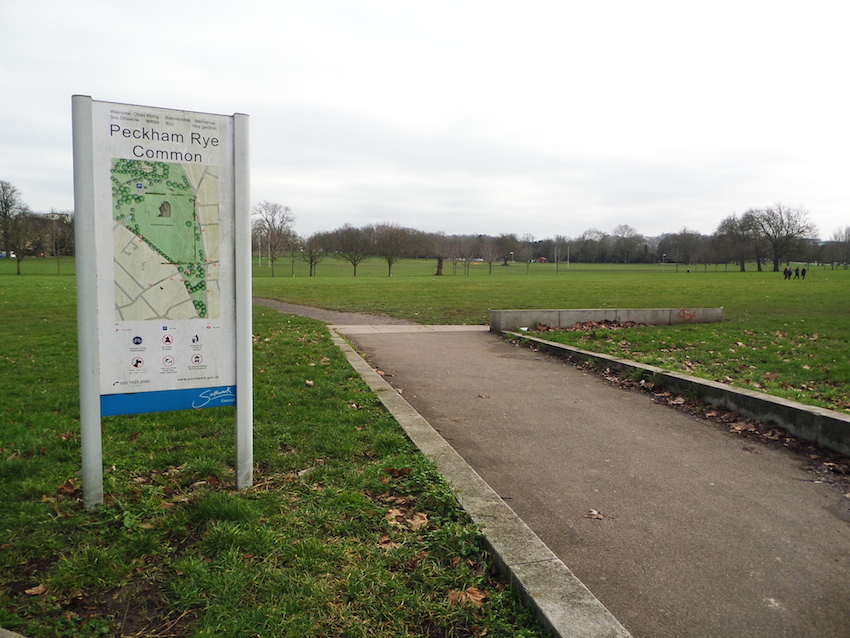 Back in 1865, the lord who owned the manorial rights to Peckham Rye Common tried to sell this ancestral open land to property developers, to the outcry of local residents who were using it for grazing, gathering fuel and holding fairs. After three years of local campaigning, the common was saved and purchased by the local Vestry of St Giles Camberwell "for the benefit of the inhabitants of the Parish as Public Grounds" under the Recreation Ground Act of 1859 [1]. This local story was part of a much larger Commons Preservation movement, which as Dr Naomi Millner succinctly unpacks here, was highly complex and tainted with issues of class and morality.
For us, the moral of this foray into continuity was clear: the only reason this piece of land still stands today was because people fought for it. Inspired by the tradition of pilgrim badges and commemorative tokens, we designed and produced a batch of etched steel tokens, which we donated to people on the common in May 2015 as a way to strike conversations around the history of public space. It is this agency over our built environment and our futures that the Common Ground project aims to shine a light on.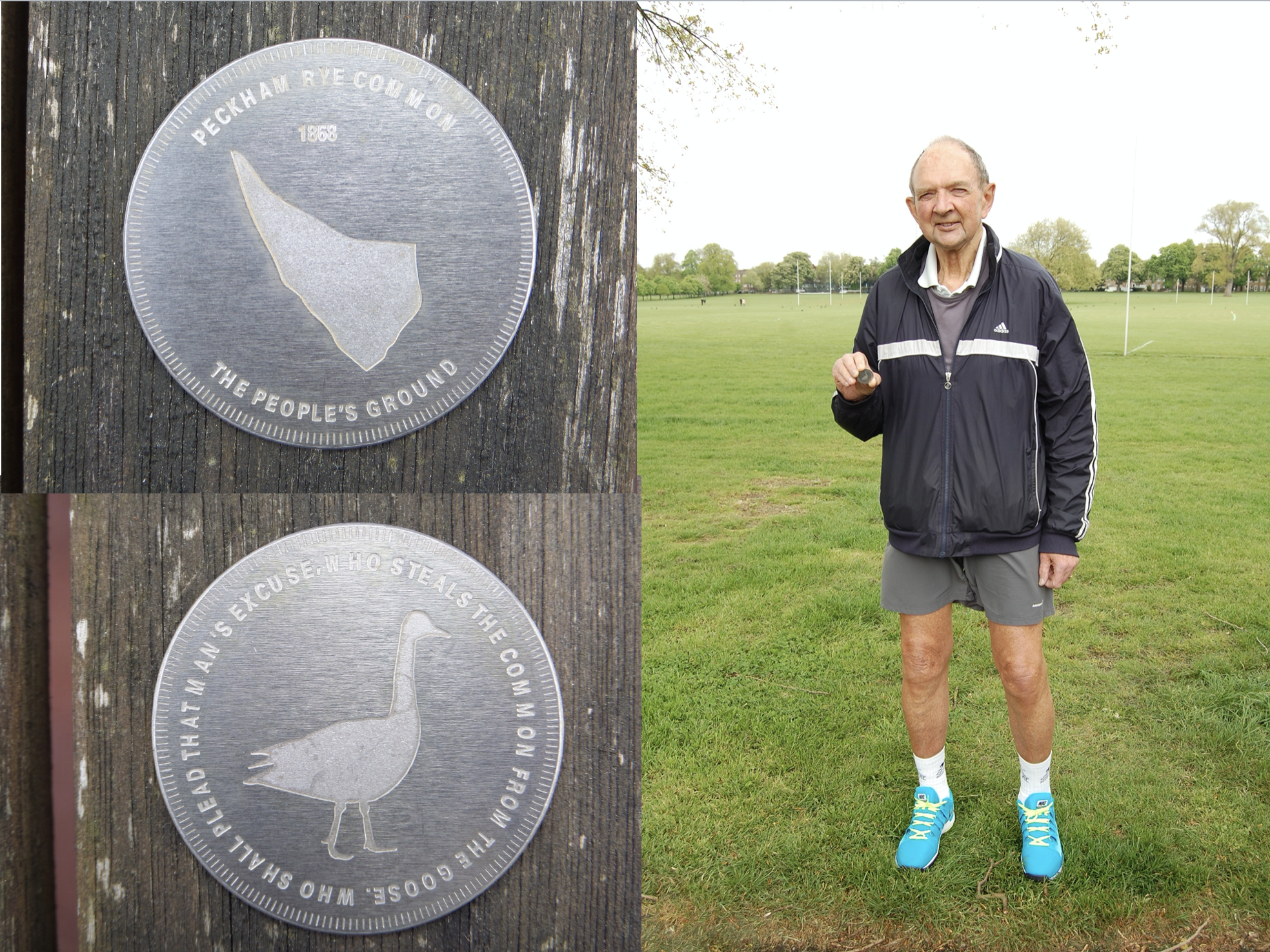 Today there is no plaque celebrating the people who fought to preserve this London common and the story is largely forgotten outside of History circles. The renewal of interest and academic research in the Commons and into Commoning as a way to reorganise our society beyond privatisation and capitalism is helping to bring such stories to the surface again.
At its heart, our project aims to open up the process of recording and sharing history. It asks the questions: what is worth remembering? and who gets to decide? One of our objectives is to invite people to think of themselves as ancestors – giving them the means and confidence to link past stories with their own situations and present actions, to visualise what impact their own acts of commoning might have onto future generations.
Badges, medals and tokens have been produced for centuries to record important historical or personal events such as pilgrimages, great battles or individual achievements. Museums are full of these testimonies of the past, which have vividly captured collective memories deemed worthy of being remembered in the future. Who hasn't inserted a penny into a slot machine to get a commemorative token when visiting a monument?
Our ambition was always to grow this made archive and find ways to involve people in the making of the tokens so we were thrilled to be commissioned by Craftspace Birmingham to produce a new token for We Are Commoners. We were very keen to find a recent story of a fight to preserve a commons. After a conversation with Dimitris Papadopoulos, we realised that none of the commons we had shortlisted were actually "commons" in the strict sense of the term as they were all Council owned. Instead, he encouraged us to think past this strict definition, and to look for the Commoners first – and only then, to try and understand what it is that they hold.
Walsall Road allotments are a 120 year old allotment site owned by Birmingham City Council and managed by a committee of volunteers. It is located in Perry Barr, a cross cultural working class Birmingham neighbourhood which is about to be significantly transformed by the 2022 Commonwealth games regeneration programme.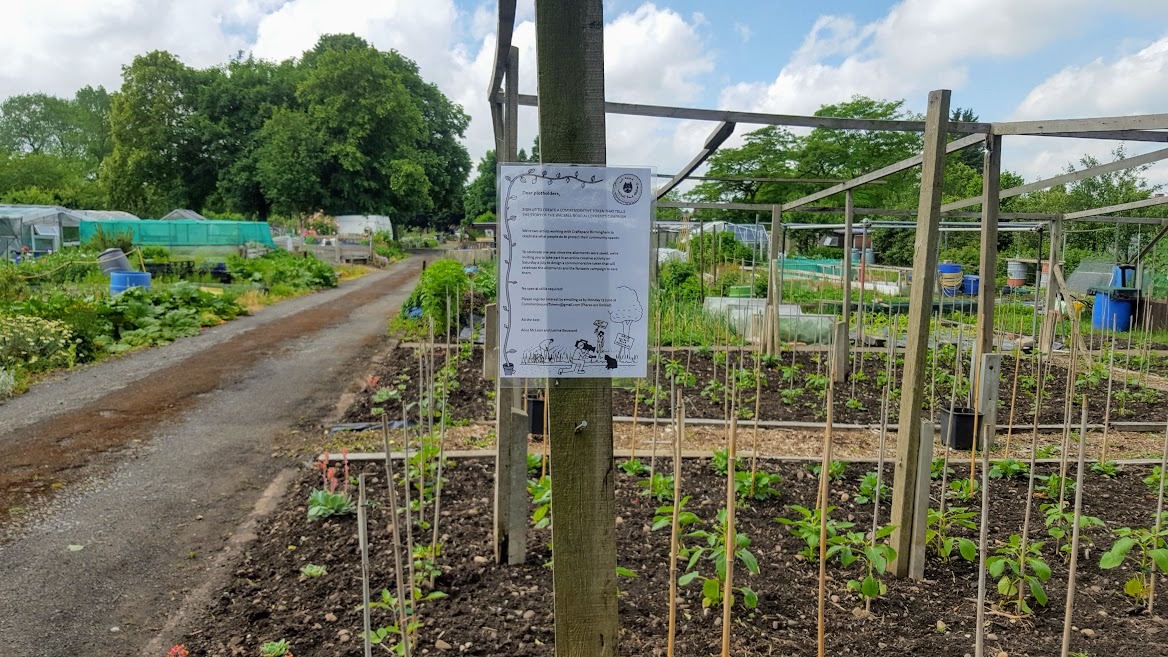 Original plans for the redevelopment of the area envisaged demolishing the allotments to make way for a new car park, but the allotment community fought back brilliantly. They launched a petition which garnered 16,000 signatures and gained the support of their local MP to lobby the council to preserve and integrate the allotments into their vision for the regenerated neighborhood. As of April 2019, it was announced that the allotments would be saved and instead remain a local community anchor in the heart of the new developments.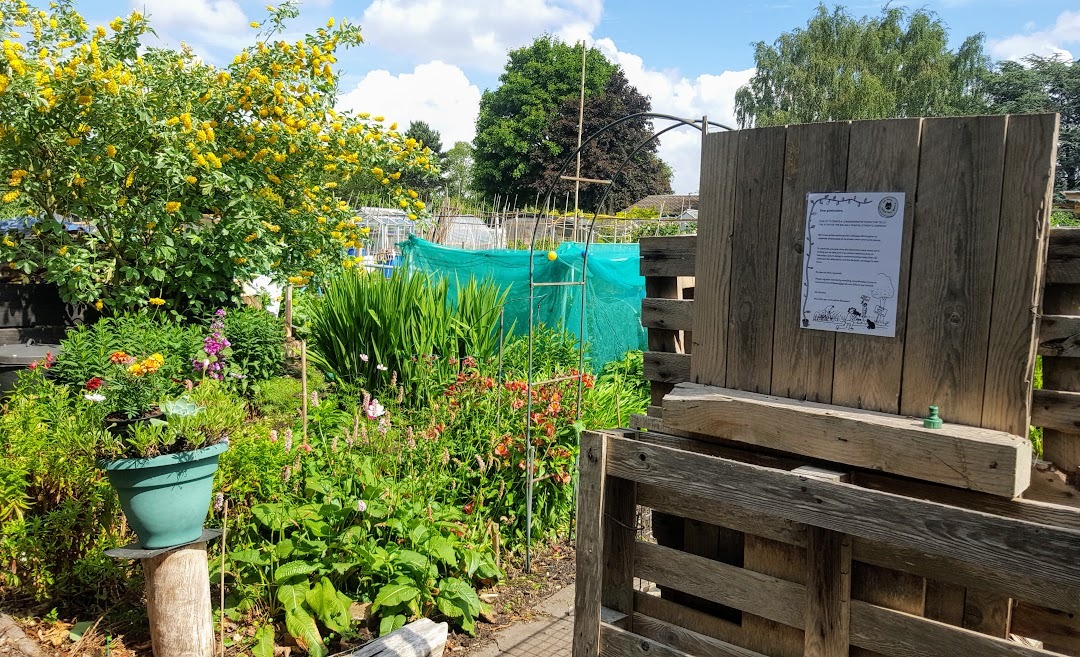 From our early conversations with the site manager Betty and responses to our questionnaire, it is obvious that the Walsall Road Allotments plotholders hold not only a piece of land and its history, but also knowledge, tools, seeds, community relationships and relationships with wildlife. In an urban area, places of biodiversity are essential, not to mention a safe haven for the seven stray cats who now call it their home, including the charismatic Robert who was so influential to the campaign with his 25,000 Twitter followers.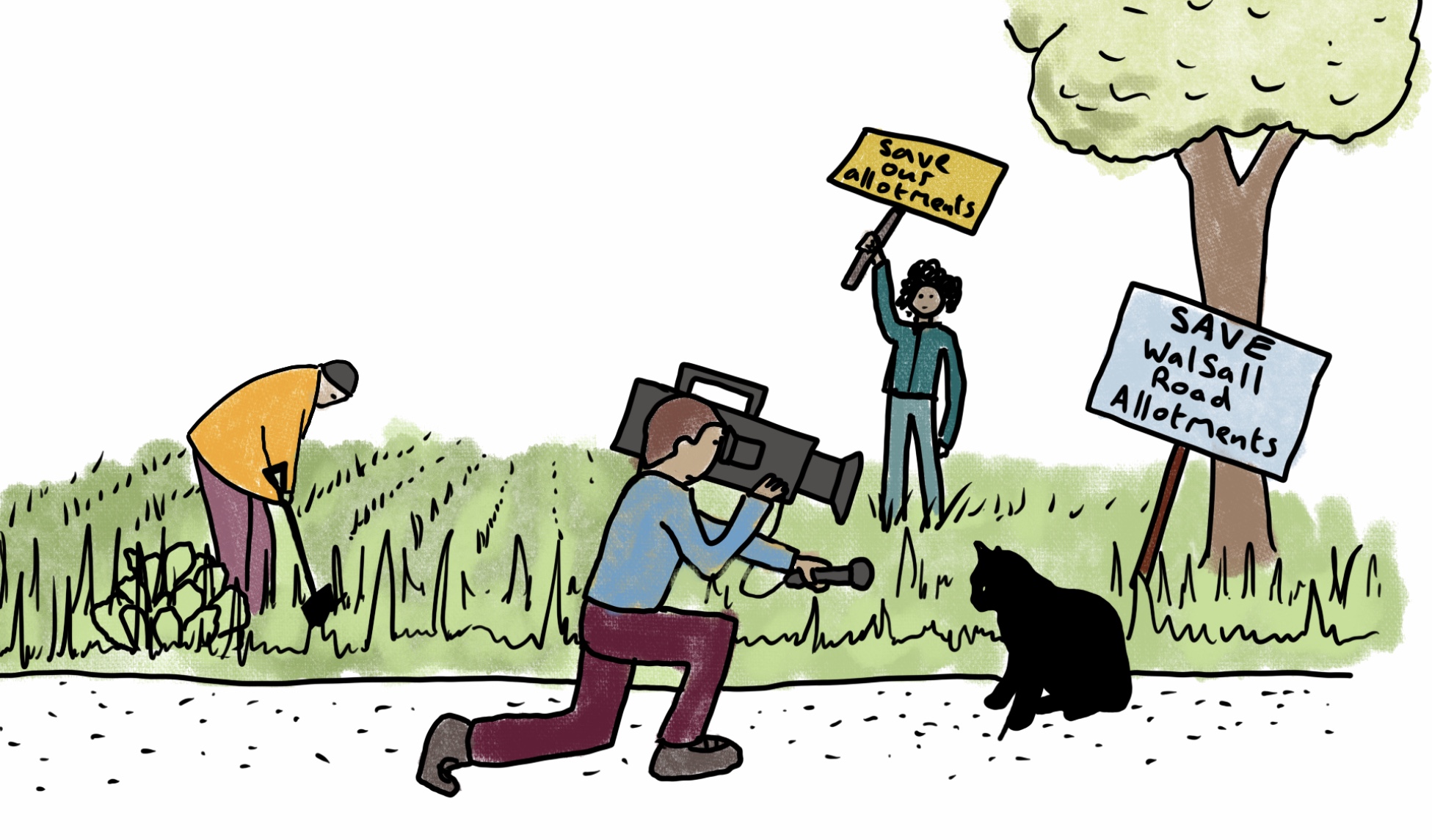 Few could have predicted that less than a year later, the allotments would come to mean even more to the local area – providing access to greenery and a place of respite for the plotholders and their neighbours in a context of a global pandemic. The irony would not be lost on our Commons Preservation Society members from 7 generations ago, who saw in commons and parks a place for recreation, access to clean water and space in a context of cramped living conditions and rife infectious diseases.
In July, we will be hosting an online creative workshop to design the Walsall Road Allotments token with some of the plot holders who have kindly agreed to join us on this adventure. In light of the social distancing restrictions, we have had to adapt our workshop format to being delivered online. The final tokens will now be batch produced in etched brass, to ensure maximum creative input from the plotholders who will inform the choice of the shape, message and symbols on the token. We have been lucky that despite the impossibility to go and visit, we have felt accepted and welcomed by Betty and the plotholders. We look forward to learning how they want to capture their story.
As our relationship to the land and food changes with our changing climate, and we hopefully return to more local relationships, we can envisage that the act of commoning of the Walsall Road allotments plotholders will come to bear a great significance for future generations. Just like our city commons, our ancestors couldn't have imagined how important they would turn out to be down the line – but we're so grateful someone fought for us to have them today. [2]